Learn the art of stenciling from Jeremy Novy⁠—a nationally recognized street artist⁠—on Saturday, April 17th, 1-4PM at Voss Gallery!
About this Event
Reserve a ticket to participate in an outdoor Stencil Workshop with Jeremy Novy⁠ on Saturday, April 17th, 1-4PM at Voss Gallery! This COVID-friendly and fun workshop will be held outside of the gallery. Masks are required and social distancing is enforced.
This class will provide participants with an insightful overview about the history of stenciling and other revolutionary acts of street art as seen in ancient and contemporary art. Participants will also gain a basic understanding of how to design, cut, and spray their very own reusable stencil to take home that day!
Join our Facebook Event Page to connect with others participating in the workshop!
Only 10 tickets are available for this hands-on experience; supplies are included with ticket purchase. Guests may also enjoy our current exhibition featuring New Contemporary paintings by California-based muralists Amandalynn, Carly Ealey, Celeste Byers, Lady Mags, Marly Sutter, Nataile Gabriel, and Olympia Altimir—in addition to a curated selection of regional artists in the gallery's lower level space [The Down Low]. Please arrive on time to ensure a smooth experience for all parties.
Ticket purchase also includes:
Signature Voss Collector tote bag to carry all class materials
Handwritten thank you card from the gallery owner/director
Advance notice of upcoming VIP events
Complimentary non-alcoholic beverage for participants
Other info:
Hand sanitizer and a bathroom to wash hands are available
Minimum age 15+ years
Painting-friendly clothing is encouraged
Face coverings are required and social distancing is enforced. We are closely following the situation with COVID-19 via the CDC and SF Department of Public Health and will share any updates on our website, newsletter, and social media channels. Please contact us at info@vossgallery.art and 415-234-3691 for any questions or additional information.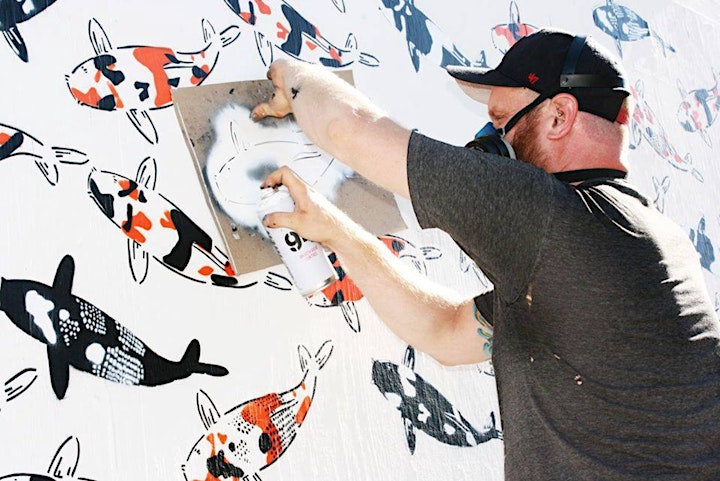 JEREMY NOVY's (b. 1979) unique brand of street art is ripe with thoughtful social examinations. Novy has combated a homophobic lack of representation with a celebration of gay iconography, bringing joviality and warmth to disused urban spaces. With a grant from the National Endowment for the Arts, he curated the first major exhibition of its kind, "A History of Queer Street Art," premiered in San Francisco in 2011 and later toured to Pop Up Gallery in Los Angeles and Yale University.
Since graduating from Pecks School of the Arts, Novy's art has been met with acclaim across the country. His work has benefited non-profit foundations, advocacy organizations, and community service programs and has been featured in numerous films, books, publications, and collections public and private. His stencil work is cogent in its messaging and remarkably complex for its compositional simplicity—like the koi fish of his most-established series which, floating beneath the surface of concrete, refer to anti-authoritarian coded symbols in Chinese art under communism. His pioneering images of drag queens, physique pictorials, and pornography bring to life the multiplicity of modern identity, reminding us that the we, each of us, must walk the streets of our cities in collective solidarity.
*Photograph courtesy of Ryan Laessig.
Voss Gallery's mission is to inspire, connect and enrich lives by making the art buying process easy, accessible and fun! We're committed to helping collectors at any stage find the perfect piece for their space with a variety of options for every budget. We work closely with our family of artists to produce dynamic solo and thematically organized group shows and socially-conscious projects to benefit the greater community. New exhibitions are presented approximately every three to four weeks and are curated with an emphasis on New Contemporary work by national emerging artists.
Voss Gallery was established in San Francisco's Mission District in August 2019 by Ashley L. Voss.