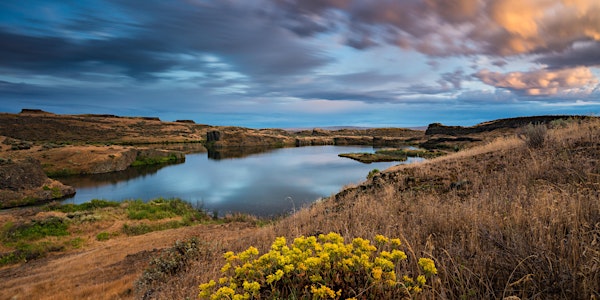 Outdoor Photography Workshop with Chris Celentano- Drumheller Channels
When and where
Location
Drumheller Channels National Natural Landmark West McManamon Road Othello, WA 99344
Refund Policy
Refunds up to 1 day before event
Description
May workshops are now live and you definitely do not want to miss this one! This will be the last opportunity to join in on one of my desert photography workshops for 2019. If you want to witness the Washington Desert and Scablands in it's most incredible transformation, then this workshop is an absolute must. During spring, the desert comes to life with new growth; an overwhelming amount of vibrant green grass sprouts out of the ground and seas of wildflowers bloom as far as the eye can see. Couple that with rugged, columnar basalt columns, some stretching 150 feet into the air, hidden lakes nestled between massive buttes and canyons and you have a recipe for an incredible adventure.
This will be an all inclusive landscape photography workshop covering everything from the technical equipment details to advanced composition theories and how to implement them. We will also touch on the editing and post processing process. The ultimate goal is to gain a newfound level of knowledge and confidence in seeking out the very best scene, knowing how to capture it in camera, and compose a stunning compelling image from it that drives your viewers eyes to exactly where you want.
This class is designed for all skill levels, from the newest beginner who is brand new to photography, to the advanced and seasoned semi-pro who is looking to gain some new knowledge and see a new place.
COST IS $85.00 PER PERSON
***EVERY PERSON WITH A CAMERA MUST PURCHASE A TICKET***
Please feel free to message for more details and any questions you might have.

Details:
1. Meet up in Coeur d'Alene Saturday morning, May 18, 2019 and arrange carpool at 8:00AM. ***We will be meeting at the BIG LOTS/BIG 5 parking lot***

2. Leave Coeur d'Alene by 8:30AM and East on I-90 to toward Ritzville. We will continue to head west toward Moses Lake. We will make a final meeting point in Moses Lake and then head South toward the Drumheller Channels.

3. Once there we will hike out to what I like to call the Honeycomb Wall where there are hexagonal shaped columns stacked neatly together for at least a quarter of a mile and views of the scablands for miles beyond that.
4. Once we have had our fill of the columns and elevated scenery, we will hike back to the trucks and then make our way around to one of the hidden lakes in the area. There we will shoot a beautiful waterfall that pours into the lake(pictured above).
5. We will spend the afternoon shooting around the lake, taking full advantage of the wildlfowers and greenery.
6. If everyone agrees to it, and it looks promising, we will stay long enough to shoot the sunset over the lake.
7. Afterward we will load up and head home.
REQUIRED EQUIPMENT:
1. Weather dependent, but light hiking/spring clothes should be fine. Bring a warm jacket, beanie, and light gloves in case the weather gets cooler or thunderstorms show up. Remember, we are in the PNW and the weather can change without notice.
2. Your camera. A DSLR is highly recommended. Your camera must have a manual mode as well. A remote trigger/cable release is a huge plus as well and cannot be recommended enough.
3. A tripod. We will be working on long exposures where a tripod is necessary
4. A circular polarizer is extremely handy when shooting water and will make your images stand out. An ND filter that darkens at least 4 stops is also highly recommended.
5. Bring water, snacks, and a lunch.
6. It is highly recommended that you bring some sort of bug spray to ward off potential mosquitos.
7. A vehicle with 4x4 and ground clearance. A truck is ideal. The road into the hidden lake is quite rough and can require 4x4.
8. EXTRA CAMERA BATTERIES- Long exposure photography zaps camera batteries very quickly.
6. We will head home around 8:00 PM if the sunset is promising. Otherwise we will probably head out around 6:30-7:00PM


I will be taking my truck and can offer up to 4 people rides to and from CDA. We can also leave vehicles(cars) at the beginning of the rough road and pile into the trucks to make the trek into the lake.