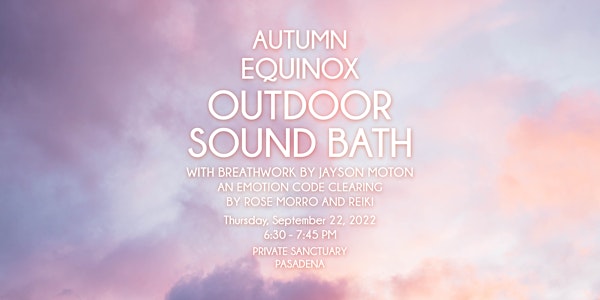 Outdoor Equinox Sound Bath with Breathwork,Reiki & Emotion code clearing
Outdoor Autumn Equinox Sound Bath opening with breath work and an illumination of Reiki Light an Emotion Code clearing by Rose Morro.
About this event
You are invited to join us for a very special outdoor sound bath meditation opening with breathwork leading into an emotion code clearing by Rose Morro with an illuminaton of reiki light by some of my favorite light workers Avery Richardson. These extraordinary times call for some extraordinary healing. This event will be held at a magical outdoor sanctuary in Pasadena. We will begin our event with breath work leading into a relaxing sound bath with an illumination of Reiki Light. During these evolutionary/revolutionary times this work is more important than ever. Connecting our energy through group meditation is a powerful way to help raise and shift not only our own frequency but that of the collective consciousness. I look forward to sharing energy with all of you. I love you all and I'm grateful for your continued support of Sacred Light.
GENERAL INFORMATION
- Date: Thursday September 22nd, 2022
Time: Arrival window is between 6:00- 6:30pm
You are welcome to arrive early to shop a special selection of crystals.
Location: Private Pasadena sanctuary. The address will be emailed upon purchase of ticket. The sound bath will be held outdoors.
– Sound Bath will begin promptly at 6:30pm.The entrance will be closed at 6:35 so give yourself enough time to arrive and get settled in a space.
-There is street parking available.
 - If you plan on bringing someone under the age of 18. Please make sure they can lay quietly through meditation without talking. The body goes into a very peaceful state and we want to respect the energy of everyone who attends.
– The session will run for approximately one hour and 15 minutes, All you have to do is lay there and receive❤️
- All tickets purchased must be redeemed on that date.
- Weather can change during the day dress comfortably.
WHAT TO BRING
– Pillow for your head (if needed for comfort) you will be lying on grass
– Bottle of water
– Bring your crystals to be harmonized and recharged by the crystal sonic vibrations
-Yoga Mat or Blanket to lay on. This event will be outdoors on a grassy area
"The September 22nd Equinox brings a turning point in the astrological year. Energy begins shifting in a new direction guiding things to change, evolve, and grow in a new direction.The Equinox has long been a sacred time, when the veil between the physical and spiritual world is thinned and the energy grid of the planet comes into a higher vibration and harmony. All of Mother Earth responds to the Equinox, and this is something we may even be able to see with the changing of the seasons.In the Northern Hemisphere, nature is beginning to shed, release, and let go. In the Southern Hemisphere, nature is beginning to bloom and blossom. No matter where you live, we can all feel this shift in energy coursing through our own lives. We may find that some things need to be released, and that some things come into full bloom.Knowing what we need to expand and what we need to contract can crystalize as the Equinox dawns. We can begin to see what is most important to us, what we want to spend our energy doing, and where we desire to put our intentions.If we are feeling off balance, or want to merge with the energies of Mother Earth, spending intentional time outdoors in connection with nature can be incredibly harmonizing and healing.On Equinox day, Mercury in retrograde happens to align with the Sun, joining it at the power point of zero degrees of Libra. Having the Sun and Mercury together at this power point degree supercharges and infuses their energy together.This can bring us greater illumination, a deeper clarity, and can help to surface all that has been hidden beneath the shadows.As Buddha once said- "Three things cannot be long hidden: the Sun, the Moon, and the truth." And this feels like a very fitting quote for this cosmic merging.If there is something in your life you would like clarity on, or answers you have been seeking, especially around the relationships in your life, set an intention on this Equinox day and stay open to the signs, messages, and inspiration you receive!" Forever Conscious
What is Breath work?
Breath work is a therapeutic breathing practice that is intended to help with emotional healing and personal growth. As we expand the quality and quantity of breath in our body, healing energy is intensified. Breath work opens you up to a state of consciousness that helps move us towards wholeness. This breath sequence will allow you to surrender into yourself by using your breath, removing blockages, and clearing stagnant energy.
What is a Sound Bath?
For those of you who are wondering what a sound bath is and what it does: Therapeutic instruments, such as crystal singing bowls, stimulate the alpha and theta brainwave frequencies associated with meditative, clear and peaceful states of mind. Alpha brainwaves are present during light meditation, daydreaming and deep relaxation. Theta brainwaves are present during REM dreaming sleep, deep meditation and hypnosis. These states are considered the gateway to the subconscious mind and it's here where we experience heightened creativity, depth of imagination and access to the subconscious realms where deep-seated healing can take place.
What is Reiki?
Reiki is a Japanese technique for stress reduction and relaxation that also promotes healing. It is administered by "laying on hands" and is based on the idea that an unseen "life force energy" flows through us and is what causes us to be alive. If one's "life force energy" is low, then we are more likely to get sick or feel stress, and if it is high, we are more capable of being happy and healthy.
The word Reiki is made of two Japanese words - Rei which means "God's Wisdom or the Higher Power" and Ki which is "life force energy". So Reiki is actually "spiritually guided life force energy."
A treatment feels like a wonderful glowing radiance that flows through and around you. Reiki treats the whole person including body, emotions, mind, and spirit creating many beneficial effects that include relaxation and feelings of peace, security, and wellbeing.
What is the Emotion Code?
The Emotion Code is a form of energy healing that helps to rid the body of emotional baggage from the past. There is an energy field within and around the physical body. The Emotion Code targets the imbalances that occur within this energy field. Trapped emotions can cause conditions such as depression, anger, anxiety, heartache, fear or overwhelm. Trapped emotions may also create a heart wall that blocks love and happiness. Because these emotions are made of energy just like the rest of the body, they exert an influence on the tissues that cause pain and even illness. Releasing trapped emotions makes conditions right for the body to heal by allowing physical and emotional difficulties to become more manageable or disappear altogether. The Emotion Code provides a safe, private and non-invasive way to heal emotional pain to create harmony within.
What to expect
Relax and fall deep into your own sonic universe. The crystal singing bowl sound meditation will balance your chakra energy centers, clear your mind, and gentlle release stuck emotions and blocked energy that no longer serves you. By connecting with your inner harmony, you will find yourself in a place where you are able to powerfully resonate with all things you would like to call into your life❤️The biggest side effect to attending a sacred light sound bath is a night of extremely blissful sleep.
Excited to see all of you!
with love and gratitude,
arlene