Join us for an outdoor edition of our Book & Bottle Club!
About this event
Love to read? Love to drink wine? Us, too!
Join us on the beautiful patio at MBTB Auburn Hills for the next meeting of MBTB's book club, featuring fun, easygoing discussion paired with wine! Pre-registration is required; the cost is $10, but comes back to you as an MBTB gift card that never expires! The e-gift card will be sent to you prior to the event so you can use it that evening, if desired.
If there is inclement weather, this session will be shifted indoors at MBTB Auburn Hills.
As this event is scheduled to occur in person, seating is extremely limited.
* Please note that guests registering via Eventbrite will incur a small fee that goes back to Eventbrite, which cannot be added back to the $10 gift card. If you would like to avoid the fee, please call (248) 850-7175 during our business hours to register via phone instead. All tickets are non-refundable.
Stay up to date on Book & Bottle events by joining our Facebook group at http://www.facebook.com/groups/bookandbottle.
Our featured book is "The Guncle" by Steven Rowley.
Patrick, or Gay Uncle Patrick (GUP, for short), has always loved his niece, Maisie, and nephew, Grant. That is, he loves spending time with them when they come out to Palm Springs for weeklong visits, or when he heads home to Connecticut for the holidays. But in terms of caretaking and relating to two children, no matter how adorable, Patrick is, honestly, overwhelmed.
So when tragedy strikes and Maisie and Grant lose their mother and Patrick's brother has a health crisis of his own, Patrick finds himself suddenly taking on the role of primary guardian. Despite having a set of "Guncle Rules" ready to go, Patrick has no idea what to expect, having spent years barely holding on after the loss of his great love, a somewhat-stalled acting career, and a lifestyle not-so-suited to a six- and a nine-year-old. Quickly realizing that parenting--even if temporary--isn't solved with treats and jokes, Patrick's eyes are opened to a new sense of responsibility, and the realization that, sometimes, even being larger than life means you're unfailingly human.
With the humor and heart we've come to expect from bestselling author Steven Rowley, The Guncle is a moving tribute to the power of love, patience, and family in even the most trying of times.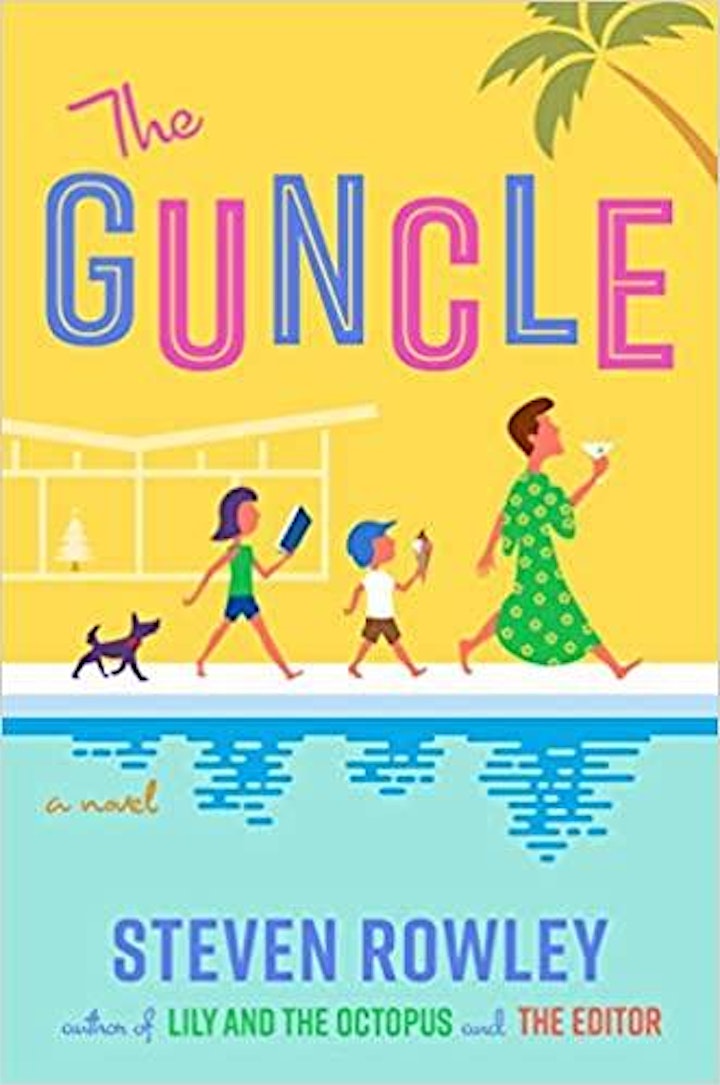 Organizer of Outdoor Book & Bottle: "The Guncle"
MBTB Tasting Room unites the founders of MichiganByTheBottle.com with multiple Michigan wineries to bring a taste of the state's wine trails to metro Detroit. Drop in Wednesday through Sunday to do a tasting, grab a glass or share a bottle, and/or enjoy our open-to-the-public events like wine workshops, live music and more. Register for special events like winemaker dinners on Mondays and Tuesdays, when we're closed to the public. Voted Hour Detroit Best of Detroit Wine Bar for 2014-2021, Best Wine List 2016-2020 and Best Wine Store 2020. Supporting the state with every sip!