BVS' Outdoor Biotech Community Event at Ventura BioCenter | Thursday, May 13 | 4:30 PM to 6:30 PM
About this event
We have some great news - outside in-person events are coming back!!
Please join us for a fun night at the Ventura BioCenter located close to Amgen on May 13th for our outdoor "BioCenter Life Science Community Event" featuring Mexican BBQ, Beer & Wine, Vendor Exhibits and Networking. We will be taking the appropriate and required precautions such as masks, social distancing and hand sanitizers.
Please join your colleagues from Amgen, ADRx, AGQ Labs., Atara, Baxalta, ex-Ceres, CSUCI,ex-Amgen, Kythera, LungLife Al, Sienna Biopharmaceuticals, PBS Bio employees, and all of the companies in the Ventura BioCenter, along with many suppliers for a great event and get together.
We look forward to seeing everyone there!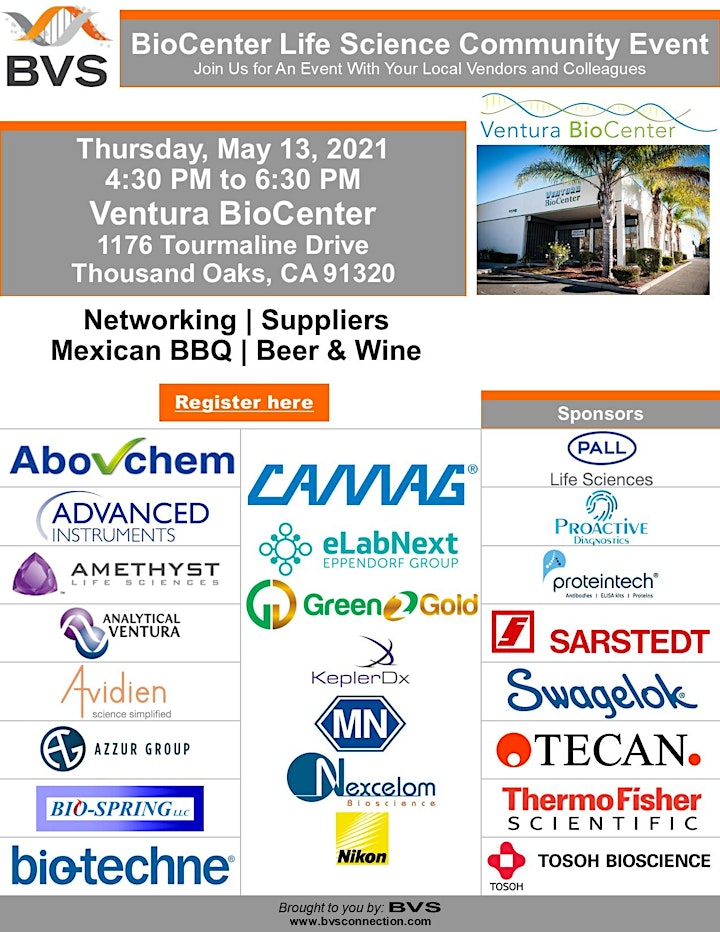 Organizer of Outdoor Biotech Community Event at Ventura BioCenter



Your fastest path to the right scientific suppliers.
Time is money. Researching and vetting suppliers takes an exorbitant amount of time. Website reviews. Brochures. Phone calls. Individual appointments. Stop the madness – we're expert scientist-to-vendor connectors. Let us help you by customizing showcases, summits, seminars, and special corporate culture events to meet your goals and objectives.