Meet six Queens-based female artists of color and see their works at Queens Botanical Garden.
About this Event
Meet and go on a tour with six Queens-based female artists of color and see their works at Queens Botanical Garden during free hours. Come see the art, meet the artists, and enjoy our 39-acre oasis!
Meeting Location: Registrants meet at Queens Botanical Garden's Visitor & Administration Building Terrace
Queens Botanical Garden (QBG) is featuring an outdoor exhibit by AnkhLave Arts Alliance, Inc., which aims to highlight Black, Indigenous, and People of Color (BIPOC) in contemporary art. AnkhLave selected six Queens-based female artists of color, the 2020 AnkhLave Garden Fellows, to create site-specific art installations throughout the Garden. They consist of five immigrant artists and one first-generation US citizen. While presenting artists and art-making in a nontraditional setting like QBG, AnkhLave aims to promote BIPOC artists who represent and reflect the Garden's diverse audience. This project is made possible by the Queens Council on the Arts with public funds from the New York City Department of Cultural Affairs in partnership with the New York City Council. For more about the outdoor exhibit: www.queensbotanical.org/ankhlave.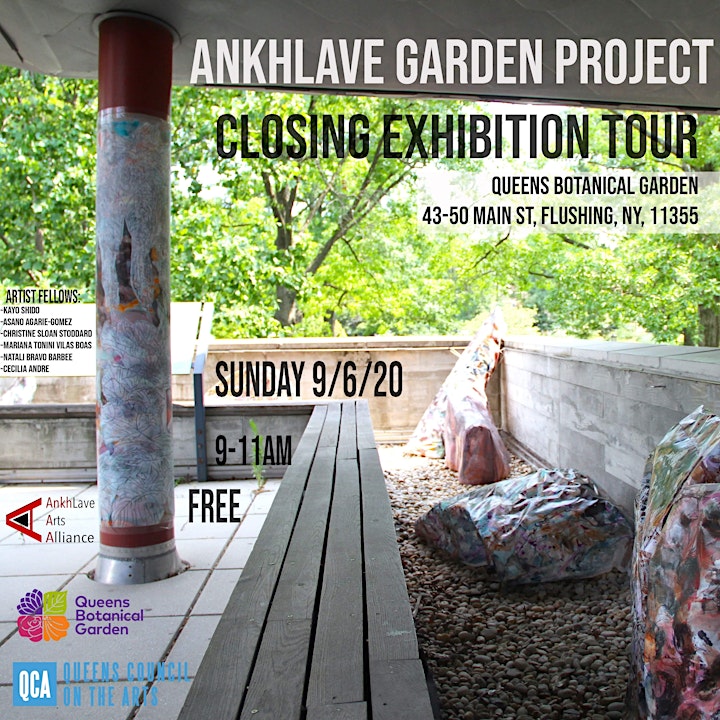 The 2020 AnkhLave Garden Fellows are:
Asano Agarie Gomez is a Japanese born artist based in Queens. In her piece, "Rosie," she creates a rose garden which mimics nature while using artificial materials and bright colors in order to investigate the concept of "otherness" in relation to the garden environment.
Cecilia André is a Brazilian artist residing in NYC for 28 years, coming from a family of Lebanese immigrants to Brazil. In Cecilia André's works, "Blossom" and "Rainbow Squared," incidental sun light traverses color transparencies projecting shadows on to the ground.
Natali Bravo-Barbee was born in Córdoba, Argentina. Her project, "Flores de Femicidio (Femicide Florals)" examines gender-based violence against women in Argentina.
Kayo Shido was born in Hyogo, Japan. Inspired by a Japanese Dry Garden, her "Dry Garden" exhibit space is installed with sculptural rocks made of abstract paintings on Mylar and a large painting along the skylight railing creating a backdrop for the Green Roof plantings.
Christine Sloan Stoddard is a Salvadoran-American author, artist, and film/theatre-maker. Her piece, "Rabbit's Storytelling Throne," is a fanciful installation that celebrates storytelling and the place rabbits hold in folk traditions around the world.
Mariana T. Vilas Boas is a digital and traditional artist from Curitiba, Brazil working and residing in Queens. Her painting "Marielle Franco Presente!" is a portrait of, and homage to, Marielle Franco, who was a politician, feminist, and human rights activist in Brazil.
AnkhLave also interviewed the artists and captured their socially distanced art installations on video for a virtual audience, which can be viewed on the Garden's website, along with a map, descriptions of the works, and artists' bios: www.queensbotanical.org/ankhlave.
The outdoor exhibition is included in the price of admission (listed below). Queens Botanical Garden is open Tuesday-Sunday, 8am-6pm. To prevent the spread of COVID-19 and for the health and safety of all visitors, everyone must wear a mask or face covering and maintain 6-foot distance from others in order to enter and remain in the Garden. More information about visitation can be found on our website: https://queensbotanical.org/hours_admission
KNOW BEFORE YOU GO
HEALTH & SAFETY
To prevent the spread of COVID-19 and for the health and safety of all visitors, you MUST WEAR A MASK and maintain 6-FOOT DISTANCE from others in order to enter and remain in the Garden. It is the law. Violators will be escorted out.
Hand sanitizer dispensers are available at multiple stations throughout the Garden. Feel free to inquire with Staff to help locate the nearest dispenser. Please note: Hand sanitizing does not replace hand washing. CDC recommends washing hands with soap and water whenever possible as it reduces all types of germs and chemicals on hands.
Restrooms are accessible by the ramp next to the Visitor & Administration Building. Please follow on-site instructions on how to enter restrooms.
High-touch surfaces are disinfected throughout the day.
CAPACITY & RESTRICTIONS
The Garden must enforce a visitation capacity to ensure that visitors can safely distance themselves. Consequently, entrances may be temporarily closed when and if the Garden is at capacity. Should you arrive at such a time, we ask that you wait on the socially distanced line or return at a later time. We thank you for your patience.
The Visitor & Administration Building (Gift Shop and Gallery) will be temporarily closed until further notice. Indoor facilities are closed to the public.
Regular Garden Etiquette Rules apply at all times.
CANCELLATIONS
If you are unable to come after you have reserved a time, please cancel your reservation as a courtesy to other visitors.
COMMUNICATIONS
By purchasing tickets and attending QBG events, you hereby opt in to receiving communications from the Garden. You may receive updates about future QBG events and news through the addresses you provide. If you do not wish to receive future communication, simply click the "unsubscribe" button at the bottom of an email or write to info@queensbotanical.org. 
PHOTOGRAPHY & VIDEOGRAPHY
Queens Botanical Garden (QBG) occasionally photographs or films visitors and activities on site to support our mission in promotional media and materials, including print, online, broadcast, and social media. By attending this event, you grant permission to QBG use your likeness in perpetuity, in all forms of print and digital media used to promote, publicize, or advertise the Garden, its activities, and programs. QBG is a 501(c)(3) non-profit organization. 
GARDEN ETIQUETTE
QBG staff strives to provide a place of peace, beauty, and safety for the quiet enjoyment of our visitors. QBG is a living museum, a collection of gardens for the study, culture, exhibition, and display of plants. We encourage our visitors to explore, enjoy, and be respectful of our plant collections and to be considerate of fellow guests as well. For more guidelines on garden etiquette, click here.
GETTING TO QBG
By public transportation, take the number 7 subway line to Main Street, the Long Island Rail Road (Port Washington line) to Main Street/Flushing, or the Q44-SBS or Q20 bus. For driving directions and more information, please visit our website.
PARKING
On-site parking is available year-round during Garden open hours at the Parking Garden, located at 42-80 Crommelin Street, Flushing, NY 11355. For parking fees, please check our website or call 718.886.3800.
ABOUT QBG
QBG is an urban oasis where people, plants and cultures are celebrated through inspiring gardens, innovative educational programs and real-world applications of environmental stewardship. QBG is located on property owned by the City of New York, and its operation is made possible in part by public funds provided through the New York City Department of Cultural Affairs, Queens Borough President, the New York City Council, State elected officials, the New York State Department of Parks, Recreation and Historic Preservation, along with corporate, foundation, and individual supporters. For more information, visit www.queensbotanical.org or call (718) 886-3800.