Description
The Lord has placed a heavy burden in our hearts to instill in our youth that although we are in this world, we are NOT of it. Daily, our youth face the pressure of what society wants them to believe is the truth. Therefore, it is our job and commitment to show them God's truth.
Generation Outcast Youth Ministry's mission is to stand out; to not be like the rest, representing our individual uniqueness and who we are to become in Christ. We are an outcast generation that "Stands Out, Reaches Out, and Speaks out!"
Stand Out: "They are not of the world, even as I am not of it" (John 17:16)
We are meant to stand out and not fit in. We are in this world but not from it.
Reach Out: "Come, follow me," Jesus said, "and I will send you out to fish for people." (Matthew 4:19)
We are called to be fishermen of men. We will reach out to every nation.
Speak Out: He said to them, "Go into all the world and preach the gospel to all creation." (Mark 16:15)
We will speak out and let the world know that Jesus is alive & He saves!
Join us and become part of our vision! We are all Outcasts but in Christ, we are One!
Min. Willie & Lucy Natal.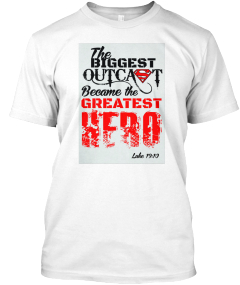 Outcast 2017 Apparel
$21.99
We partnered with Teespring to create some awesome merchandise for this event. Show your support and look good wearing it. Check it out!
Date and Time
Location
Refund Policy