OUT Under the Stars is now a Drive-in Experience!
About this event
Join us OUT Under the Stars on the rooftop of the Parking Garage @1400 Ivar Ave - Behind the Cinerama Dome and ArcLight Hollywood for the LGBTQ cult classic, But I'm a Cheerleader.
The Los Angeles LGBT Center and Lionsgate host the ultimate socially-distanced outdoor movie night benefiting the Center's vital programs and services provided during the COVID-19 pandemic.
5:00 p.m.: Doors Open
6:30 p.m.: Film Screening
About the Movie
Megan (Natasha Lyonne) considers herself a typical American girl. She excels in school and cheer-leading, and she has a handsome football-playing boyfriend, even though she isn't that crazy about him. So she's stunned when her parents decide she's gay and send her to True Directions, a boot camp meant to alter her sexual orientation. While there, Megan meets a rebellious and unashamed teen lesbian, Graham (Clea DuVall). Though Megan still feels confused, she starts to have feelings for Graham.
Tickets
$150 VIP Socially Distant Seating for Two (2) includes two (2) tickets to the movie; one complimentary parking pass on-site; reserved socially distanced premier seating; a picnic package which includes snacks and wine for two. This is a non-car ticket; ticket holders will be viewing the film from socially distant seating blocks of two. Parking will be provided on the lower level of the parking structure.
$35 VIP Driver Ticket includes VIP car positioning for one (1) vehicle in the front two rows of cars and one admission ticket for the driver.
$35 VIP Passenger Ticket includes admission for one passenger in a VIP positioned vehicle. This ticket must be accompanied with a VIP Driver ticket.
$25 GA Driver Ticket includes car positioning for one (1) vehicle and one (1) admission ticket for the driver.
$25 GA Passenger ticket includes one (1) general admission ticket for the passenger of a general admission positioned vehicle. This ticket must be accompanied with a GA Driver Ticket.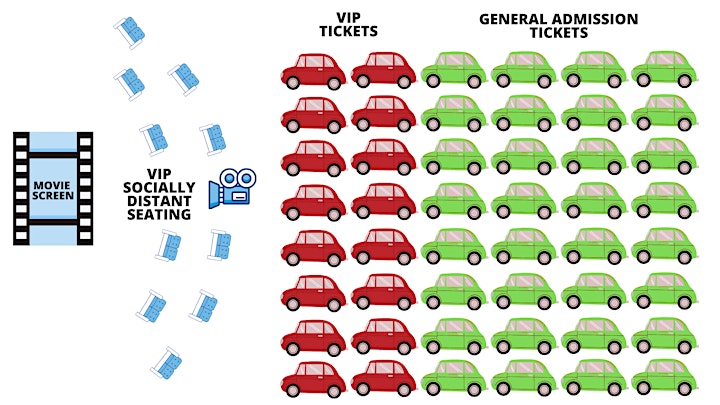 Organizer of OUT Under the Stars Drive-in: But I'm a Cheerleader
Since 1969 the Los Angeles LGBT Center has cared for, championed, and celebrated LGBT individuals and families in Los Angeles and beyond. Today the Center's nearly 800 employees provide services for more LGBT people than any other organization in the world, offering programs, services, and global advocacy that span four broad categories: Health, Social Services and Housing, Culture and Education, Leadership and Advocacy. We are an unstoppable force in the fight against bigotry and the struggle to build a better world; a world in which LGBT people thrive as healthy, equal, and complete members of society. Learn more at lalgbtcenter.org.