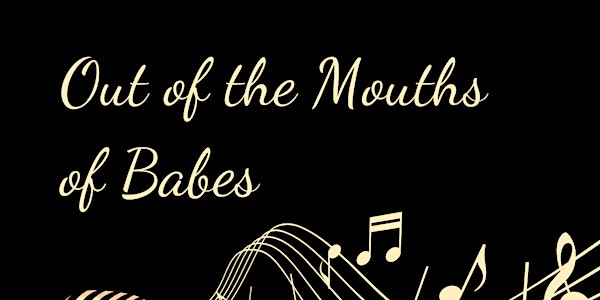 Out of The Mouths of Babes, a cabaret evening
OUT OF THE MOUTHS OF BABES A Cabaret Celebrating the Wit and Wisdom of Female lyricists
When and where
Location
The Stissing Center 2950 Church Street Pine Plains, NY 12567
Refund Policy
Contact the organizer to request a refund.
Eventbrite's fee is nonrefundable.
About this event
Out of the Mouths of Babes
Cabaret veterans Debra Allee and Barbara Zucker-Pinchoff join forces for the first time in a celebration of the unique perspective women bring to popular song. Where a male songwriter might idealize and romanticize romance and love ("She is perfect," "She's an angel," She's a doll"), women look to the specifics ("I'll give you Rogaine when you are losing all your hair.") and bring to the table a deeper sense honesty and a wider range of emotions as they write about relationships romantic and otherwise. The explosion of content from women in popular music today can be traced back to the early twentieth century and the writers of some of the most enduring songs of all time (Dorothy Fields, Carolyn Leigh, Irene Franklin). These pioneer women led the way for contemporary writers like Carole King and Carly Simon, whose songs are so intensely connected to their own real stories. And the treasure trove of songs generated by women today from artists like Dar Williams, Ingrid Michaelson, Amanda McBroom and so many others form the backbone of the show. "Out of the Mouths of Babes" is Deb and Barb's tribute to the women who reach into their own lived experiences and share their emotions, their secrets, and their hearts through their songs.
"Out of the Mouths of Babes" is musical directed by Dan Furman, with direction by six time MAC Award winning director and performer, Eric Michael Gillett. Songs performed will include "I Love Being Here with You" (Peggy Lee), "Killing Time" (Carolyn Leigh), "Been to Canaan" (Carole King), "Here You Come Again" (Dolly Parton), "And When I Die" (Laura Nyro), "You're So Vain" (Carly Simon), and so many others. It's a musical feast you will not want to miss.