Out of the Gobi: My Story of China and America with Weijian Shan
Description
Weijian Shan's Out of the Gobi: My Story of China and America is a powerful memoir and commentary with the potential to reshape how Americans view China, and how the Chinese view life in America.
Shan, a former hard laborer who is now one of Asia's best-known financiers, is thoughtful, observant, eloquent, and brutally honest, making him well positioned to tell the story of a life that is a microcosm of modern China, and of how, improbably, that life became intertwined with America. Out of the Gobi draws a vivid picture of raw human energy and the will to succeed against all odds.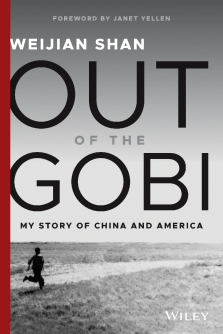 Out of the Gobi will be available for purchase at the event. To buy the book in advance, please click here.
Click here to listen to Asia Society podcast program: Remembering China's Cultural Revolution. Weijian Shan talked with New York Times Pulitzer Prize-winning columnist Tom Friedman for a conversation about China then, China now, and about one man's remarkable odyssey.
Members: $15
Non-Members: $25
Walk-ins (Member or Non-Member): $30
Agenda:
11:00 AM - 1:00 PM Event, Q&A Discussion and Book Signing