Join us for this participatory half-day workshop to explore and develop a shared identity future.
About this event
This last year has triggered a surprising acceleration in adoption of digital identity and virtualization technologies. We work from home with virtual conferencing on numerous platforms. We use more digital services like media and online games. We use our mobiles, our desktops, our laptops, our smart watches, and our internet-of-things devices, seamlessly and interchangeably, as our virtual lives are increasingly integrated with our real lives. It's an exciting time for those of us in the Rebooting the Web of Trust community, who have been creating and collaborating on decentralized identity solutions for over a decade.
But there remain gaps to be addressed. We've learned some of our approaches don't work, so we've found and created new options. Sometimes we've succeeded, but we've also tried things and failed. We've developed a much deeper understanding of the real-world requirements for innovations in identity, and we can use that to do better.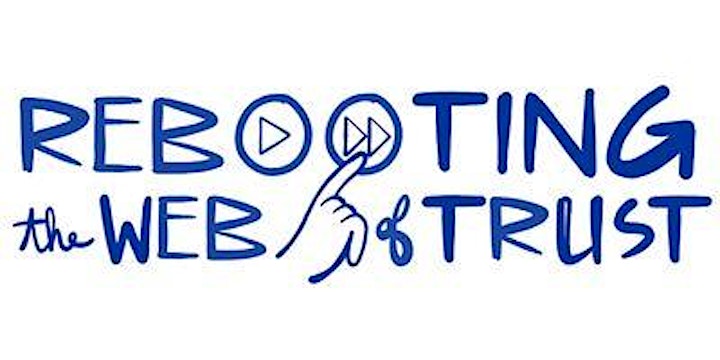 Join us for Out of the Box 2052, our second Rebooting the Web of Trust virtual salon. At this participatory half-day workshop, we will explore and develop a shared identity future. The conversation will be captured as a graphic recording with quotes and highlights. This output will be published in perpetuity for reference and licensed for inclusion in other efforts under Creative Commons By Attribution 4.0. See this example of the kind of output we anticipate creating together.
January 27, 2022
8AM - 12PM PST / 11AM - 3PM EST / 4PM - 8PM GMT
Space is limited.
$99 Early Bird participant (purchase by Jan 14)
$199 Regular participant (purchase by Jan 26)
Photo 211148442 © Andrey Popov | Dreamstime.com
Organizer of Out of the Box 2052
A 501(c)4 social benefit organization in the United States, Rebooting the Web of Trust gathers passionate professionals to define, explore, and advocate for decentralized identity. We hold workshops and salons where we discuss, collaboratively write, and ultimately publish ground-breaking papers and software to help shape the future of identity.
Decentralized identity allows individuals to directly manage how others recognize, remember, and respond to us. Instead of dependence on state- or corporate-issued IDs--acting as both root identifiers and reliable credentials--decentralized identity gives individuals a way to create and manage identitifiers that can be used to construct reliable identity on demand. Individuals use these identifiers to create and selectively disclose both self-asserted claims and credentials from trustworthy authorities, with any receiving party--without the unnecessary privacy risks found in legacy identity architectures. The goal is to define a privacy-centric and censorship-resistant identity architecture where no single entity can deny its use and well-known authorities like local governments and sovereign states can provide reliable attestations without revealing to those authorities when and where such attestations are used. Our goal is ubiquitous individual-controlled identity without ubiquitous surveillance.
This is a work in progress.
We are a volunteer-driven membership organization. We depend on the passion of professionals and the support of sponsors to realize our goals.  If you'd like to be a part of building a better identity architecture for a better world, please join us.