Out Of The Bars & Into The Streets -- The Milk Club's 36th Anniversary Soir...
Description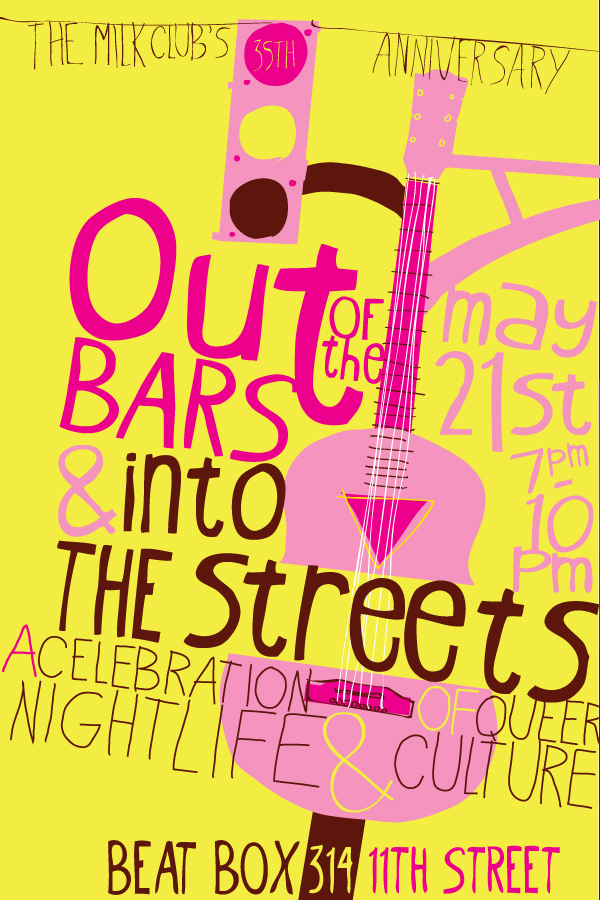 Greetings Milk Club Supporters, Allies, Friends and Members:
It is the honor of a life time to be in the service of this club and its members, as well as the network of allies who have joined us in moving San Francisco closer to our vision of a city that draws us together and unites us in justice.
As we look at the city around us we see the work that needs to be done to bring justice to the economically challenged, bring human rights to drug users, and bring recognition to queer culture. As we work to address these issues we are simultaneously working to fulfill the promise that San Francisco represents in the world.
Moving full steam ahead, the Harvey Milk LGBT Club has been:
Bringing our bylaws up to date, and building a new website.

Working to save Queer Space and Nightlife.

Working to restoring AIDS Funding.

Creating actions and conversation around public space and how it is used.

Helping to broaden the frontiers of trans empowerment.

Working to bring fairness to drug policy.

Supporting solutions to reverse the grave state of our world's ecology.

Heightening outreach between queer youth and queer elders.

Increasing visibility at Pride and festivals around the Bay Area.
As the progressive movement faces redistricting and our political landscapes change, we must find ways to show that harm reduction and social justice benefit communities, and in fact are the answer to our city and countries' financial troubles and our citizen's personal burdens.
It is through our thoughtful conversations and actions that we deliver our progressive message to those who remain unconvinced or unaware. It is not where we live but how we live that is the strength in our rallying cry.
The Harvey Milk LGBT Democratic Club invites you to join us in keeping social and economic justice alive and well.
Madam President Anna Conda
------------------------


Please join us for the 35 Anniversary of the Harvey Milk LGBT Club




Out of the Bars and into the Streets: A Celebration of gay Nightlife and Culture




Enjoy our Gay Buffet! - A Queerly Delicious Taste of San Francisco




Be entertained! - By the Queers Stars of San Francisco's Nightlife




May 21st




7:00 PM to 10:00 PM – Buffet and Awards




10:00 PM to 2:00 AM – Harvey Milk's Birthday Party Bash
Icon
: 10 tickets, Private Booth, Prominently Displayed Banner, Full Page Ad in program, Ad featured in Event slideshow – $2,000
Rock Star
: 8 tickets, Cocktail table, ½ Page Ad in Program, Ad featured in event slideshow – $1,500
Starlet
: 6 tickets, ¼ page Ad in Program, Name featured in event slideshow – $750
Groupie
: 4 tickets, Name in Program - $375
General Admission
: $40 - $80 Sliding Scale according to ability
Organizer of Out Of The Bars & Into The Streets -- The Milk Club's 36th Anniversary Soiree