SPACE and City of Evanston welcome Caamp to Canal Shores for Out of Space 2021
About this Event
THIS EVENT IS CURRENTLY SOLD OUT
While we wait to see how restrictions progress, we've preemptively lowered capacities on all Out of Space events. This event is currently "sold out," but more tickets may become available at a later date. To be notified of future ticket drops, please join the SPACE mailing list (on desktop, the sign-up is located to the right of show listings) and follow us on social (@evanstonspace).
COVID-19 INFORMATION
Thanks for your interest in this Out of Space concert! We're hopeful that outdoor gatherings, with the necessary precautions, will be advisable at some point in Summer 2021. But the truth is we don't know that for sure yet, and we're tracking the progress of COVID-19 and vaccinations just like everyone else. While it's our intention to make these outdoor concerts happen, we are committed to only doing them if they're safe and in compliance with all available guidelines. We're working closely with the City of Evanston on this matter and will share updates as we have them.
For now, feel free to think positively with us, purchase a ticket if you're so inclined, and know that we will 100% refund your order if these events can't take place. If good news is around the bend and we're able to stage these concerts, we promise they'll be done with health and safety as a guiding principle.
Please keep an eye out on your email, our social media channels (@evanstonspace), and this ticketing page for the most up-to-date information. Other questions? Email us at boxoffice@evanstonspace.com.
We look forward to seeing you at a show!
ABOUT THE SHOW
GATES: 5pm   |   SHOW: 7pm
Canal Shores Golf Course is located at 1030 Central St, Evanston, IL 60201
PLEASE CLICK HERE FOR A DETAILED FAQ.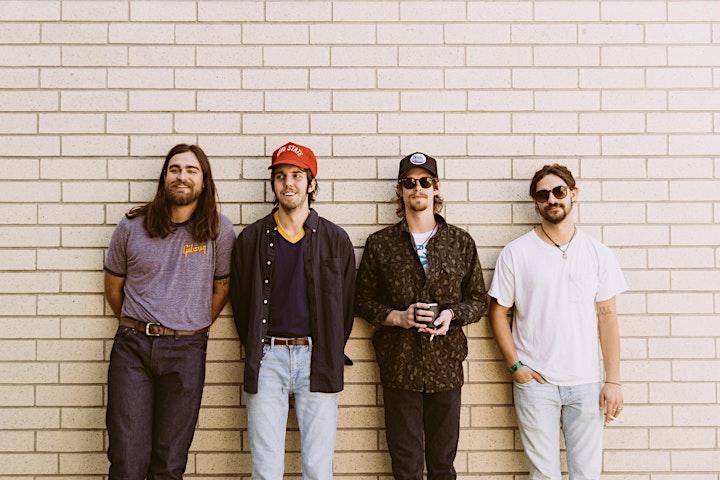 ABOUT CAAMP
The Columbus, OH band, Caamp, is made up of long-time friends Taylor Meier and Evan Westfall. They added Matt Vinson on bass just prior to signing with Mom + Pop music and recording their latest album, By and By. In week one of their release, Caamp made multiple chart debuts. By and By entered the Billboard Top 200, was the #1 Heatseeker, #1 on the New Artist Alternative Albums, top 5 vinyl album sales for the week and entered the Alternative and Emerging Artist charts. Caamp recently made their late night television debut on Jimmy Kimmel Live!, and followed that up with a killer performance on CBS This Morning Saturday. The band also scored their first #1 at radio with their single "Peach Fuzz" while By and By is currently in its second week of being the #1 most added record at AAA radio. After a victorious festival season playing Firefly, Shaky Knees, Forecastle, Outside Lands, Austin City Limits, Great Escape and many more, Caamp kicked off a major US headlining tour on September of 2019 and have been selling out show after show without any signs of slowing down.