Description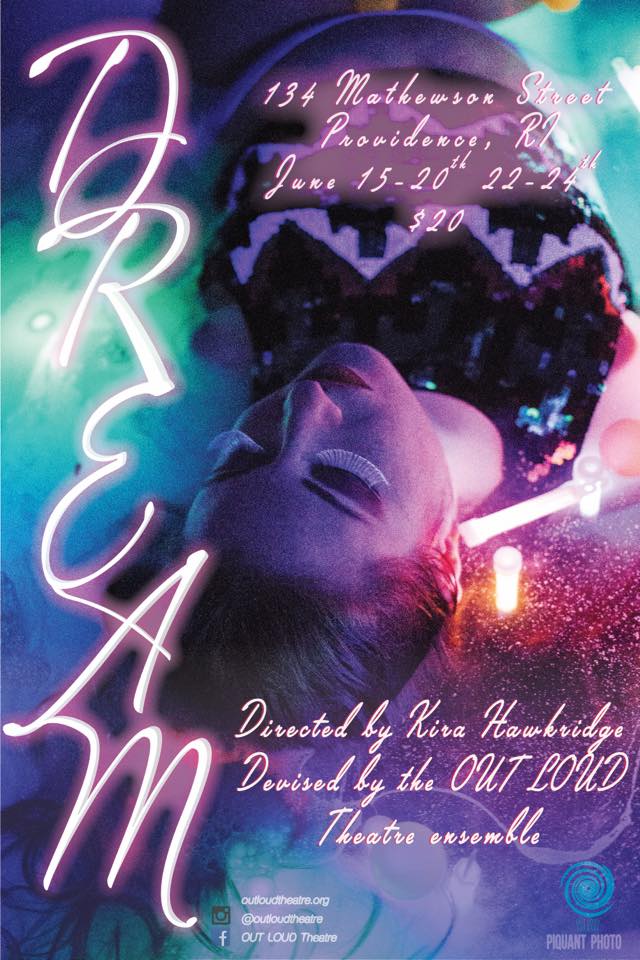 Season 6: Seeing is Believing
OUT LOUD Theatre Presents: DREAM
Friday June 15th - Wednesday June 20th @ 8pm
Friday June 22nd - Sunday June 24th @ 8pm
Adapted & Directed by Kira Hawkridge
Written by William Shakespeare (Based on A Midsummer Night's Dream)
Devised by the OUT LOUD Theatre Ensemble
Alijah Dickenson: Peter Quince (Prologue)
Lorraine Guerra: Philostrate | Peasblossom
Pat Hawkridge: Tom Snout (Wall)
Siobhan LaPorte-Cauley: Titania
Daria-Lyric Montaquila: Hippolyta | Mustardseed
Gabrielle McCauley: Robin Starveling (Moonshine)
Mary Beth Luzitano: Nick Bottom (Pyramus)
Catia Ramos: Theseus | Cobweb
David Nando Rodgers: Demetrius
Marc Tiberiis: Snug (Lion)
Marc Tiberiis II: Francis Flute (Thisbe)
TICKETS ARE NOW AVAILABLE!
134 Mathewson Street Providence, RI
4th Floor | The Mathewson Street Theater
DREAM is OUT LOUD's third and final installment in their upcoming 3-Part Series premiering this June, all part of OUT LOUD's Season 6: Seeing is Believing (An Exploration of Fantasy & Unreality).
DREAM is a wild & immersive experience through a fantastical dreamscape full of magic, mischief, and love - based on William Shakespeare's A Midsummer Night's Dream. "All 3 productions this Season begin with establishing a sense of 'reality' as we know it," says Artistic Director, Kira Hawkridge, "And from that 'reality' all 3 productions tip into a sense of 'unreality' in which we experience vastly different interpretations of these fantastical realms. These adventures and raw experiences somehow find their way back to the beginning - allowing for a shift in what we originally felt or were aware of. 'Unreality' has the ability to create a change in 'reality' and vice versa.
DREAM begins its journey in Athens - in a state of hyper realism. Our Royals, Lovers, and Mechanicals exist in Athen's very "real" world - with hard edges that seem to glimmer with possibilities just beyond their reach. As each individual enters the "the forest", we collectively unveil, and in turn fully experience, the array of possibilities 'unreality' has to offer, and how this fantastical dreamscape reveals truths within ourselves and within our perception of the world around us.
Season 6 is an opportunity for our ensemble to give over completely to the essence of these expansive themes - "WONDER", "ESCAPE", and "DREAM" - and to explore these worlds with open minds and open hearts - reality and unreality alike. Seeing is Believing, and with Season 6, there is a whole lot to see." ​
Adapted & Directed by Kira Hawkridge
Written by William Shakespeare (Based on A Midsummer Night's Dream)
Devised by the OUT LOUD Theatre Ensemble
Saturday June 16th @ 3pm*
Wednesday June 20th @ 8pm
1st Floor Lobby opens at 7:15pm
4th Floor Lobby opens at 7:45pm
*Saturday June 16th is our only Matinee for DREAM
1st Floor Lobby opens at 2:15pm
4th Floor Lobby opens at 2:45pm
Please feel free to reach out to boxofficeoutloudtheatre@gmail.com with any questions.
Join OUT LOUD Theatre as we kick off our month long Season 6 performance festival this June! Learn more at www.outloudtheatre.org.
#s6isbelieving
#wonder
#escape
#dream