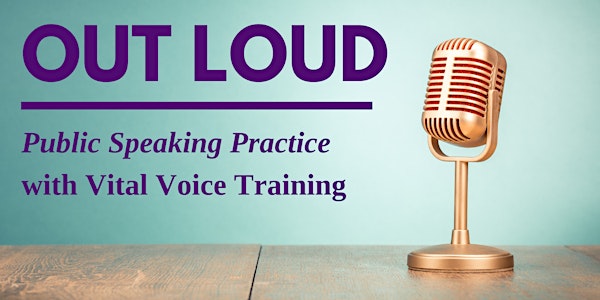 Out Loud: Public Speaking Practice Sessions
Expert-led public speaking practice with a friendly audience and on the spot coaching
About this event
We've all heard it — people fear public speaking more than death.
But so many exciting opportunities come with public speaking! If you want to build your brand, get your idea out there, gain visibility, and change the world (or just your small corner of it), you've gotta get heard.
OUT LOUD is a chance to practice your public speaking skills in a "medium stakes" way . . . somewhere in between talking to your mirror at home and getting right out there on the TEDx stage. The crowd will be supportive, and experts Julie Fogh and Casey Erin Clark of Vital Voice Training will be facilitating the evening and offering lightning coaching to each participant. Here's how it works:
Prepare a 5 minute or less speech on ANYTHING you like — it can be a portion of a larger talk, an explanation of your favorite nerdy hobby, a summary of your life philosophy, an elevator pitch for your company, whatever you like.
Deliver your speech, get coaching and adjustments onstage in front of the crowd. Depending on timing, you'll get a chance to do all or part of your speech again.
Support your fellow speakers and watch them get coaching and adjustments. Everyone learns from both watching and participating.
Why Vital Voice Training? Here are our core beliefs about public speaking:
Your voice and presence are totally unique, which is why imitating some idea of what a "good public speaker" looks and sounds like will turn you into a performing robot. We NEED diverse voices to continue to challenge and expand the idea of what leadership and charisma look like. Nobody here is going to count ums, uhs, or likes. We want to help you step into your most powerful presence and voice.
Do you fear public speaking? Congratulations, you have a working nervous system! It ain't a judgement on you or a sign from the universe that you aren't meant to be onstage. It's just your brain doing a brain thing, and you can work with that. We promise.
Practice doesn't make perfect. There's no such thing as "perfect" — and if there were, it'd be boring to watch. But, practice does help skills drop in and become part of us — most people tend to either under-rehearse (holla procastinators!) or over-rehearse in the wrong way (do it over and over and over again the same way). Our aim is to teach you how to rehearse so you can take these skills with you.