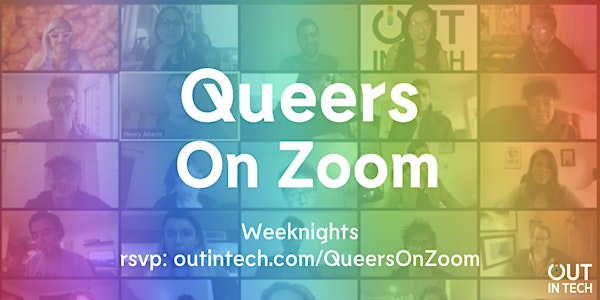 Out in Tech | Queers On Zoom 5/1-5/5
Please register for each Queers On Zoom you'd like to attend and we'll send the secure link & password.
About this event
Tuesday May 5th at 9p ET | Working #OutHere (Out in Tech U)
Join Out in Tech U for an all-star digital panel on being out at work, and tips on promoting yourself in the job market when you're starting your career.
Tuesday May 5 at 8p ET | Product Manager Happy Hour [8p ET]
Being the glue of product development right now can be tough; get through it with the help of your community!
-
Wednesday May 6th at 9p ET | Backstage with Arlan Hamilton
Join Out in Tech for a virtual launch party and special 30min Q&A with Arlan Hamilton the day after her new book, It's About Damn Time, is released.
-
Thursday May 7 at 8p ET | Womxn, Nonbinary, and TGNC Happy Hour
Mingle with dozens of womxn, trans, and nonbinary folx.
Thursday May 7 at 9p ET | Speed Networking
10-minute rounds to make a professional connection (or a new lifelong bff?)
-
Friday May 8 at 7:45p ET | Drag Race
Let your hair down and come watch + comment on this week's episode. Oh, and we'll be playing an amazing RPDR Bingo game (we promise it'll be Goode).
-
💻 Keep in touch with 12K members on Slack. Join here.
-------
Note: Out in Tech's Code of Conduct applies to all our spaces, online and IRL.