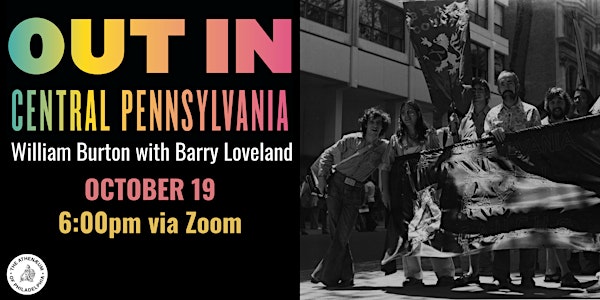 Out in Central Pennsylvania: The History of an LGBTQ Community
Out in Central Pennsylvania: The History of an LGBTQ Community was written by William Burton with Barry Loveland.
About this event
Outside of major metropolitan areas, the fight for LGBTQ+ rights has had its own unique and rich history – one that is quite different from the national narrative set in New York and California. Bill Burton and Barry Loveland will discuss their book, Out in Central Pennsylvania, and how it highlights one facet of this lesser-known but equally important story, immersing readers in the LGBTQ+ community building and social networking that has taken place in the small cities and towns in the heart of Pennsylvania from the 1960s to the present day. Drawing from oral histories and the archives of the LGBT Center of Central PA History Project, this book recounts the innovative ways that LGBTQ+ central Pennsylvanians organized to demand civil rights and to improve our quality of life in a region that often rejected them. Full of compelling stories of individuals seeking community and grappling with inequity, harassment and discrimination, and featuring a distinct trove of historical photographs, Out in Central Pennsylvania is a local story with national implications. The authors will provide an overview of History Project and the contents of the book, and highlight the LGBTQ+ initiatives of Governor Milton Shapp and the efforts for passage of local non-discrimination ordinances in Harrisburg, Lancaster and York. Published by Penn State University Press, it received the 2020 Arline Custer Memorial Award for Best Book from the Mid Atlantic Regional Archives Conference.
William Burton is the author of Out in Central Pennsylvania, and is a writer living in Provincetown, Massachusetts. He has a master's degree in History from the University of Massachusetts and his thesis was in LGBT history. He is currently a contributor to The Provincetown Banner newspaper and The Gay and Lesbian Review magazine.
Barry Loveland is a cofounder and chair of the LGBT Center of Central PA History Project and is retired after a 32 year career with the Pennsylvania Historical and Museum Commission. He has B. S. in Building Sciences from Rensselaer Polytechnic Institute and an M. S. in Historic Preservation from Eastern Michigan University. Loveland assisted the author in locating and researching material for the book's content, and editing the manuscript.
Purchase the book here.