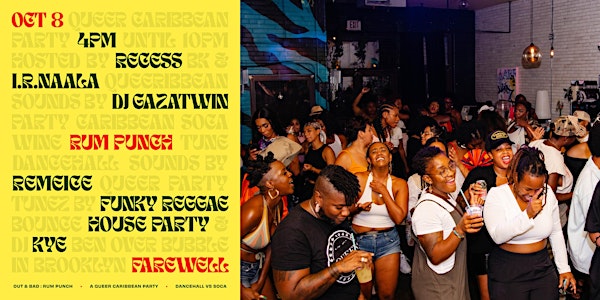 Out & Bad: Rum Punch | Queer Caribbean Party
Out & Bad is a queer, Caribbean party series spinning strictly dancehall and soca.
When and where
Location
Farewell Bar 143 Troutman Street Brooklyn, NY 11206
About this event
🏳️‍🌈 🏳️‍⚧️ 🇯🇲 🇹🇹 🇧🇸 🇧🇧 🇹🇨 🇭🇹 🇵🇷 🇩🇴 🇱🇨 🇻🇮
It may be fall, but at Out & Bad, it's alwaaaays summer, baby!! On Oct 8th from 4-10pm, we're kicking off fall with "Out & Bad: Rum Punch", a queer, Caribbean party at Farewell!⁠!
We've got selectas Funky Reggae House Party⁠, DJ GazaTwin, Remeice, and KYE ready to take you back to the Caribbean, spinning strictly dancehall and soca. And we've got special guest hosts, I.R.Naala and Recess, bringing the energy and non-stop vibez, all day long!
Backs will be broken, thighs will be sore, bodies will be sweating – we nah let up from the first tune play! Unu ready??!!!⁠ 🔥👏🏾💃🏾😎🥵😮‍💨
Tickets are limited so cop yours while you still can! Allies welcomed. 🖤


🇹🇹 Funky Reggae House Party
Queeribbean island created to celebrate culture, community, creativity + good vibrations.
Find them on: Instagram

🇵🇦 DJ GazaTwin
DJ GazaTwin known as the youngest and baddest selectress in NYC. I just love to see the crowds face when they realize it's a young queen roaring on the mic and musically in action!
Find them on: Instagram • Soundcloud
🇯🇲 Remeice
As a New York native with Jamaican roots, Remeice has been spinning for crowds over the last decade at some of your favorite spaces and events, fusing together genres from Hiphop, Reggae, Dancehall, R&B, House, and anything that gives a vibe. She will make sure to have you dancing at every single function.

🇯🇲 I.R.Naala
Naala Nesbeth is a born and raised Jamaican Creative who seeks to re-imagine FLUIDITY & VERSATILITY in her gender-neutral fashion and teaching style.
Find them on: Instagram

✨ Recess
Recess is an events pop-up for the QTPOC community.
Find them on: Instagram

🇭🇹 Zenobia
Zenobia "Jpeg Zen" Philippe is a queer, Haitian, New York City based Photographer, LGBTQIA+ advocate and Content Creator. They have worked for companies like Nike, The W Hotel, Anna Sui, DapperQ, The Tailory, and more. They are currently also represented by Society Row.
Find them on: Instagram • Website • SocietyROW
Important Notes
Age: This is a 21+ event.
Safe space: This is a safe (virtual) space for all. We will not tolerate hate of any kind.
Photography + Videography: We will be taking photography and videography at this event. By entering the event premises, you consent to such recording media and its release, publication, exhibition or reproduction.