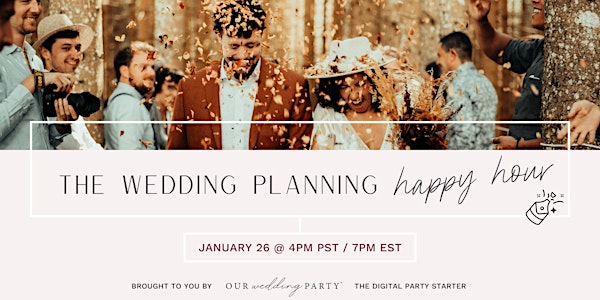 Our Wedding Party's Wedding Planning Happy Hour: Advice & Inspo
Learn the secrets to a joyous wedding from top pros. Get inspired to create the wedding of your dreams with less stress and more magic.
About this event
Our Wedding Party 's Wedding Planning Happy Hour: Advice, Inspo and Real Talk about Your Big Day
We aren't talking flowers and we aren't talking about selecting your colors or how to tour venues. Nope, this is a Wedding Planning convo unlike any other. Our focus is on energy, vibes and creating the day that you always imagined you could share with your friends and family.
If you're looking for inspiration and advice on getting the wedding day that's what YOU always wanted, sign up and attend.
We'll cover:
What elements of your wedding make the biggest impact on your wedding day happiness?
How can you enjoy the planning process more, de-stress and have a truly personalized wedding?
How can you have more fun at your wedding?
How can giving guests an awesome experience fuel great wedding energy?
We're gathering some of our favorite wedding experts to offer tips for making your special day the most memorable it can be.
List of panelists
-Landis Behar LMHC
Founder/Director, AisleTalk: Consultation + Therapy
-Rachel L'Antigua
Wedding Photographer
-Susan Moran
Founder/Principal Designer, That's It! Wedding Concepts
If your guestlist is set, don't forget to sign up for Our Wedding Party! In just a few quick steps you can get your guests mingling together with our safe, secure and easy to use platform that gets the party started today!