Description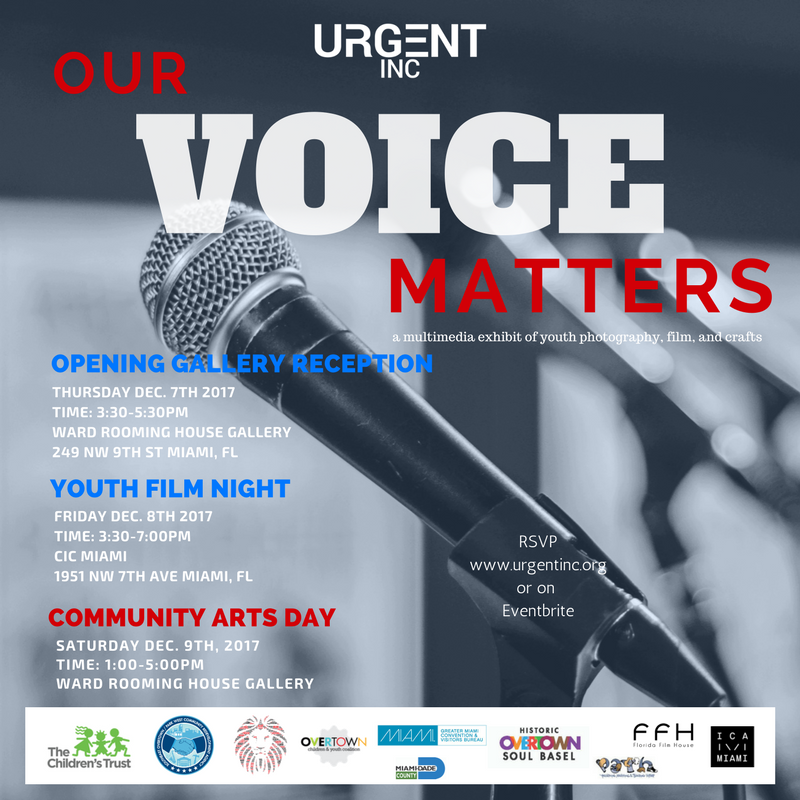 Youth Art Will Be on Full Display for Soul Basel in Overtown
"Our Voice Matters" a collection of youth art, film, photography and more
Miami, FL (October 23, 2017) – Each year, Art Basel spans three continents and on December 7-10, 2017 it will grace both the shores of Miami and the Historic African American Overtown Community as it does annually. And youth from Urgent, Inc.'s Rites of Passage, FACE. (Film, Arts, Coding & Entrepreneurship) and After School Programs will showcase their talents as part of the Soul Basel experience in Overtown, with, "Our Voice Matters," a multi-media collection of art, photography, fim and more. This exhibition is made possible thanks to The Children's Trust, The Black Archives History and Research Foudation, Greater Miami Convention and Visitors Bureau and Miami Dade County.
The voices of youth made possible through the arts will be celebrated for 3-days featuring the work of young artists and filmmakers ages 5-21, and their grandparents too. The festivities are open to the public. If you go:
Opening Gallery Reception- Thursday, December 7, 3-5:30pm at the Historic Ward Rooming House Gallery, 249 NW 9th St, Miami, FL 33136. Includes a guided artwork, interactive photo booth and youth entrepreneur pop up shop. Presented in partnership with The Black Archives History and Research Foundation.

Community Arts Day- Saturday, December 9, 1-5pm at the Historic Ward Rooming House. Includes a fun filled afternoon of spoken word, dance, music, art project and so much more. Presented in partnership with Path to Hip Hop.
"These young people continue to impress me with their skills and passion for artistic expression. Their messages are very powerful," says Rites of Passage Program Manager Shedia Nelson who spoke about the students excitement to participate in Art Basel.
Urgent, Inc.'s goal is to continue to present opportunites for youth to experience success not only in school but in their communities. "It's not enough to just have them do the work. We want them to experience what it feels like to see their artwork hanging on a Gallery wall in a major art fair. We want them to hear the applause after a film they worked on pleased an audience of moviegoers," says Vice President Saliha Nelson. "Many of our young people from our program have gone on to chart a successful path for themselves in film schools, in college and even the workforce. We're so proud of that." Since its inception, Soul Basel has been one of the annual opportunities that provides youth a platform to expose their talent to a large and expanded audience.
For more information about Urgent, Inc. or this event, please contact Stephanie van Vark at 305-710-2212 or stephanie@stephaniecreates.com.
About Us
URGENT, Inc. is a 501(c)(3) Miami, FL based, youth and community development organization dedicated to empowering young minds to transform their communities. Currently, the organization operates after school, summer, intergenerational, and workforce training programs with the aim to empower youth to serve as agents of social change. To learn more about Urgent, Inc., visit www.urgentinc.org.