Our solar-powered future IS HERE... and how it can benefit YOU!
Description
This event will provide you with the information necessary to take part in and benefit from the solar-powered revolution that is occurring all around us. Join us for light morning refreshments, listen to and take part in Q&A with three speakers discussing rooftop solar panel systems, plug-in electric vehicles and electric vehicle charging infrastructure. Visit tables from local groups providing information related to the forum, speak with owners displaying a variety of plug-in electric vehicles and network with others. If you are interested in learning more about rooftop solar and/or plug-in electric vehicles and how to take advantage of them this is the event for you.
Schedule of Events
9-10am: Refreshments, visit groups affiliated with forum topics, talk with owners displaying their electric vehicles
10-10:35am: Rooftop solar panel systems, Freedom Solar (James Kennedy)
10:35-10:40am: Local group introductions

10:40-11:15am: Electric vehicles (Jim Montgomery)
11:15-11:20am: Local group introductions

11:20-11:55am: Electric vehicle charging infrastructure, Adopt a Charger (Paul Scott)
11:55am-12:00pm: Local group introductions
12:00-1pm: Refreshments, visit groups affiliated with forum topics, talk with owners displaying their electric vehicles

Local Groups Participating

Adopt a Charger
Freedom Solar
Port of Los Angles High School
Plug In America
Sierra Club
Plug-in Electric Vehicles on Display

Chevrolet Bolt

Chevrolet Volt

Ford Focus EV
Nissan Leaf
Tesla Model S
If you have any questions or are interested in displaying your plug-in electric vehicle at the forum, please send email to: environmentalprioritiesnetwork@gmail.com
Event Map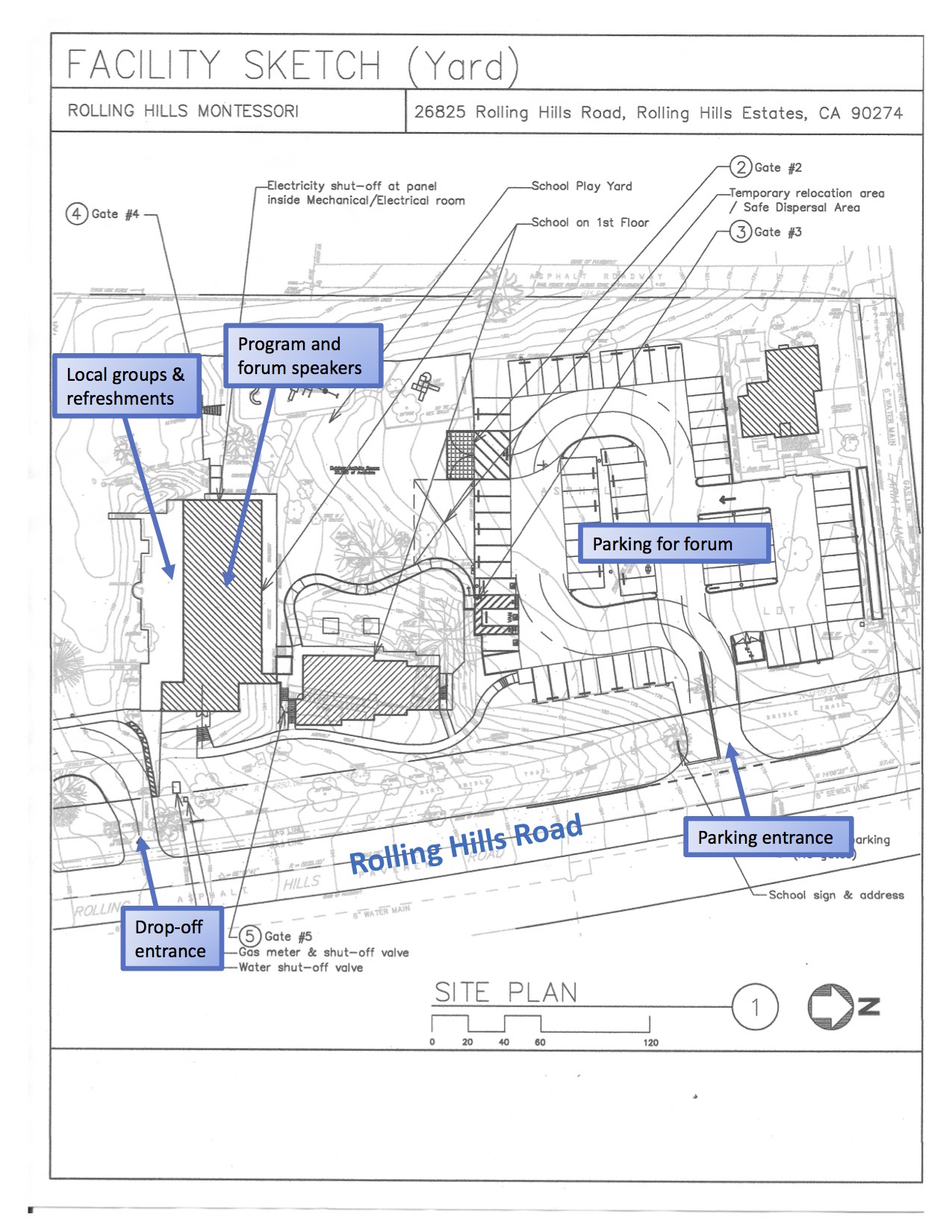 ---
Speakers
James Kennedy is an Independent Energy Consultant who works with home and business owners to help them go green and save money. He has consulted on over 100 residential and commercial solar installations throughout California, New Mexico, and Puerto Rico. James is a Redondo Beach resident and cares deeply about protecting the environment for future generations and getting America off fossil fuels for good. He is very active in the South Bay community as a Big Brother mentor and Rotarian in Manhattan Beach.
Jim Montgomery has been driving plug-in electric vehicles (PEVs) since 1992 and has not owned a gas vehicle since 1994. He has owned 3 PEVs; a gas-powered Pontiac Fiero converted to electric (1992-98), a Honda EV+ (1998-2002), and a Toyota RAV4 EV (2002-present). He has driven over 300,000 miles in 25 years, the last 7 years using renewable energy from his home's rooftop solar panels. He has watched the industry grow from home-built converted vehicles with limited range and performance to dozens of vehicles produced by every major auto manufacturer with ever increasing performance and reducing costs. Jim enjoys sharing his knowledge of plug-in electric vehicles with the general public and inspiring them to drive electric as well.
Paul Scott a lifelong environmentalist, is a leader in the emerging electric vehicle and renewable energy fields. He has worked extensively in both industries and recently retired to spend all of his time writing and speaking nationally and abroad. Paul co-founded Plug In America, the nation's foremost nonprofit EV advocacy group. He is among the key figures featured in the award-winning documentary, "Who Killed the Electric Car?" Paul has exclusively driven electric cars and motorcycles since 2002, powering them solely with clean energy generated by the photovoltaic panels on his home. In his spare time he's a passionate chess player and animal lover.
Organizer of Our solar-powered future IS HERE... and how it can benefit YOU!
Environmental Priorities Network is a local South Bay volunteer organization whose mission is to educate the public about and encourage participation in efforts of conservation at the local, national, and global levels.
At St. Luke's, we take our spiritual journey seriously — in our worship, our study of scriptures, and our communal life. We are committed to justice, peace, and the care of creation. We invite you to join us and experience your own sacred journey with us of being and becoming people of God.
Pacific Unitarian Church's mission compels us to manifest our values in the wider world. Grounded in our UU principles, we actively donate time and resources to make the world a better place for all beings. PUC actively currates organizations and projects for our members to engage with. We provide opportunities for you to make a powerful difference! Our ministry is headed up by a team of social justice associates who help to set the direction of our justice making.  Opportunities are available for members and friends to participate in action.