| | |
| --- | --- |
| Our Social Networks - a Talk with Nicholas Christakis | |
Event Details
When: Monday, Dec 06, 2010. 3:30pm - 5:00pm; refreshments served
Where: IBM Research, 1 Rogers St, Cambridge MA 02142
RSVP at http://ibmsocialchristakis.eventbrite.com
Our Social Networks - A talk with Nicholas Christakis
Humans are embedded in social networks that affect every aspect of our lives.  Work in the Christakis lab involves the application of network science and statistical and mathematical models to a variety of observational and experimental datasets, to understand the structure and function of human networks.  What social, biological, and mathematical principles help determine how and why human social networks form and how they operate?  One stream of work focuses on the spreading dynamics of health-related phenomena (obesity, smoking, emotions, altruism) in longitudinally evolving networks ("contagion").  Another stream of work examines the genetic, social, and psychological processes that determine social network structure ("connection").  These investigations have meaningful implications for public policy and public health.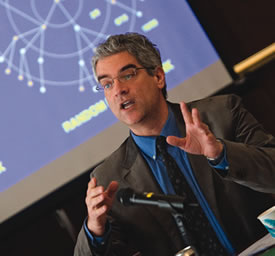 Nicholas A. Christakis, MD, PhD, MPH, is an internist and social scientist who conducts research on social factors that affect health, health care, and longevity. He is Professor of Medical Sociology in the Department of Health Care Policy at Harvard Medical School; Professor of Medicine in the Department of Medicine at Harvard Medical School; and Professor of Sociology in the Department of Sociology in the Harvard Faculty of Arts and Sciences. He is the Master of Pforzheimer House in Harvard College.
Dr. Christakis' lab is currently focused on the relationship between social networks and health. People are inter-connected, and so their health is inter-connected. This research engages two types of phenomena: the social, mathematical, and biological rules governing how social networks form ("connection") and the biological and social implications of how they operate to influence thoughts, feelings, and behaviors ("contagion"). Other ongoing investigations in the lab consider the effects of neighborhoods on people's health, the biodemographic determinants of longevity, the widowhood effect ("dying of a broken heart"), and the genetic bases for human behaviors.
Where

IBM Center for Social Business
NOTE: Enter IBM at 1 Charles Park
Across from Galleria Mall
Cambridge, MA 02142


Organizer
The IBM Research Center for Social Business is a research, development, and testing collaborative for social software that is "fit for business." The Center partners with corporations and academia, and deploys its experimental software on the internet to test it "in the wild" and capture feedback and data early and often.