Our Smart Cities, Our Quantified Selves
Description
Our Smart Cities, Our Quantified Selves:
How Changes In Digital Fabrication Cost and Culture Are Changing Our Understanding of Populations and Environments
Arlene Ducao

A creative engineer, entrepreneur, and educator.
Arlene is an NYC-based entrepreneur running a MIT Media Lab-spinoff company, Multimer. She is also an adjunct professor at New York University School of Engineering.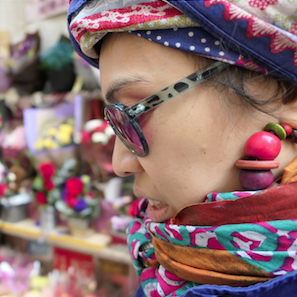 Arlene Ducao makes technologies that examine the relationship between the natural landscape, our built environments, and ourselves. She is a Principal at the DuKode Studio, a scientific and environmental design firm in Brooklyn, and the CEO and co-founder of Dukode's affiliate company Multimer, a spinoff from MIT Media Lab. At Multimer, she developed her invention MindRider, the geospatial brainwave-mapping system profiled in WIRED, New York Times, Discovery Channel, MSNBC, Fast Company, Science Channel, and many more.
Arlene is also a recipient of the South by Southwest Winburne Community Service Award for her work on satellite mapping in Indonesia and Kenya, she teaches at NYU and MIT, where she presents a range of topics, from multidimensional data visualization to digital fabrication and its cultural underpinnings. She is also active as an organizer-advocate in the Working Families Party and FUREE (Families United for Racial and Economic Equality). Arlene Ducao holds degrees from UMD, SVA, and MIT.
Arlene will share with us about two areas of research she teaches at New York University:
an examination of how globalization, the rise of maker culture, and falling costs have changed the face of digital fabrication in China and the United States.

a reflection on how maker culture and falling costs have made the technologies of crowdsourcing, wearable sensors, and citizen science all viable concepts for the (re)development of new places, both indoor, outdoor, and in virtual reality.
Besides, she will also talk about her MIT-spinoff Multimer has worked with the opportunities and challenges of the quantified self in the smart city.