Our Shared Solar Future: Expanding Access through Community Solar
Description
GRID Alternatives GLA is proud to announce the fourth event in our Los Angeles Energy and Equity Series (LEEPS), "Our Shared Solar Future: Expanding Access through Community Solar."
Community solar has emerged across the country as a powerful policy option to encourage clean energy equity. The event will introduce attendees to the concept of community solar and its potential to expand solar access to our most vulnerable communities, including those households who face the greatest adoption barriers such as renters. Our panel of experts and advocates will review successful community solar case studies from around the country, with specific focus on programs that deliver benefits to low-income customers. Panelists will then turn focus to California and discuss our state's recent community solar policy developments, as well as additional steps that must be taken to ensure significant utility bill savings for the households that need it most.
We're honored to have California Public Utilities Commissioner Martha Guzman Aceves as our Keynote Speaker. Panelist include Ted Bardacke (Executive Director, Clean Power Alliance), Brandon Smithwood (Policy Director, Coalition for Community Solar Access), Anthony Hernandez (Principal Manager, Energy Procurement & Management, Southern California Edison), Marta Tomic (Program Director, Vote Solar), Tom Figel (Policy & Regulatory Manager – Community Solar, GRID Alternatives), and more.
---
About GRID Alternatives Greater Los Angeles
GRID Alternatives Greater Los Angeles is an affiliate of GRID Alternatives, the nation's largest nonprofit solar installer, bringing clean energy technology and job training to underserved communities. GRID GLA has installed 1,313 solar electric systems for low-income households to-date, with a combined installed capacity of 4,490, saving $33,319,531 million in lifetime electricity costs and preventing 86,673 tons of greenhouse gas emissions. 4,492 people have also received training through the program. For more information, visit www.gridalternatives.org\gla

*If you have any questions or qualify for a reduced ticket price (students, Veterans), please contact Emily Scherer at escherer@gridalternatives.org.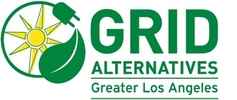 ---
Partners
This event is made possible by The 11th Hour Project, a program of the Schmidt Family Foundation.