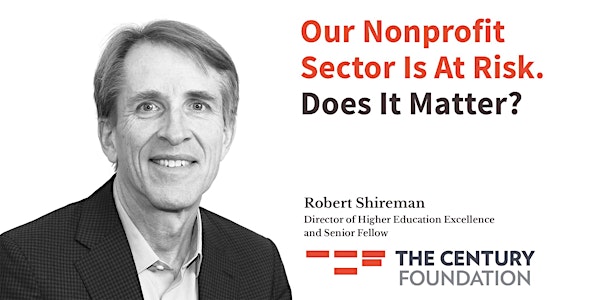 Our Nonprofit Sector Is at Risk. Does it Matter?
Location
Clark-Fox Forum
Hillman Hall
1 Brookings Drive
St. Louis, MO 63130
Robert Shireman, Senior Fellow at The Century Foundation, will discuss the future of nonprofits in the US
About this event
A reception will be held at 5:30 with the lecture following at 6:00 pm.
Congress has slashed the budget for the IRS's oversight of nonprofit organizations. In the wake of the cuts, Wall Street is increasingly finding ways to profit from nonprofits. What does this mean for the social sector in the United States? What can be done about it?
Robert Shireman is director of higher education excellence and senior fellow at The Century Foundation working on education policy with a focus on affordability, quality assurance, and consumer protections.
Sponsored by the Clark-Fox Policy Institute, the Social Policy Institute, and the Office of the Provost.