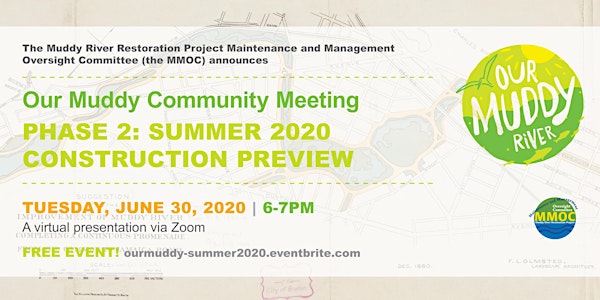 OUR MUDDY COMMUNITY MEETING Phase 2: Summer Construction Preview
Phase 2 of the Muddy River Restoration Project is set to begin in early July. Join us for a virtual pre-construction tour.
About this event
The Phase 2: Summer 2020 Community Meeting will preview summer construction priorities, work area locations, and schedules—and look ahead to plans for the fall.
Presenters:
* Jennifer Flanagan, Project Manager for the US Army Corps of Engineers, New England
* Kyle Merkosky, Project Manager for Charter Contracting Company LLC
* Tom Brady, Conservation Agent and Tree Warden for the Town of Brookline
A ZOOM link will be sent to you via email prior to the virtual meeting.