About this Event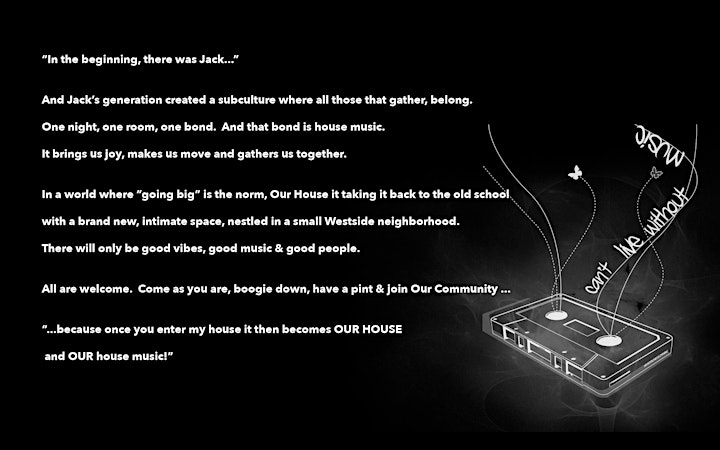 "In the beginning, there was Jack ..."
And Jack's generation created a subculture where all those that gather, belong. One night, one room, one bond. And that bond is house music. It brings us joy, makes us move and gathers us together.
Where "going big" is the norm, Our House is taking it back to the old school with a brand new intimate space, nestled in a small Westside neighborhood. There will only be good vibes, good music & good people.
All are welcome. Come as you are, boogie down, have a pint & join Our communitry ...
"... because once you enter my house it then becomes OUR HOUSE and OUR house music!
Capacity is limited, so get your tickets now! $10 presale tickets on eventbrite end Friday, March 6th at midnight!
$15 cash at the door
---
M. FATALE (Our House, LA):
https://soundcloud.com/tbd
HYJYNX (Ninja Skillz, LA):
https://soundcloud.com/hyjynx
JESSE JAMES (Underground Soundz, LA):
https://soundcloud.com/dj_element1
SOMEKINDAWEIRDO (Our House, LA):
https://soundcloud.com/somekindaweirdo
----