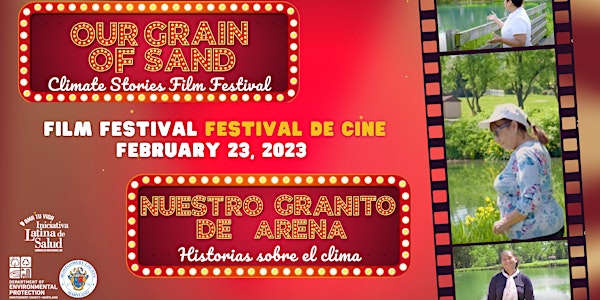 Our Grain of Sand: Montgomery County Climate Stories Film Festival
Nuestro granito de arena: Festival de cine sobre el cambio climático presentado por el Condado de Montgomery
By Montgomery County Dept of Environmental Protection
Date and time
Thursday, February 23 · 6 - 9pm EST
Location
AFI Silver Theatre and Cultural Center 8633 Colesville Road Silver Spring, MD 20910
About this event
Versión en Español abajo
Montgomery County Government is rolling out the red carpet for the 1st Climate Stories Film Festival. 
Climate Change will have a tremendous impact on Montgomery County, but if we all contribute with a grain of sand, we can build resilience together. Montgomery County Climate Stories Ambassadors have collected hundreds of stories about why our community cares about climate change and how they commit to doing their part.  
All are welcome for this night filled with films and food to understand the impacts of climate change and help promote community-based solutions.  The event will be held at the AFI Silver Theatre and Cultural Center in Silver Spring on Thursday, February 23rd, 2023, from 6 pm-8 pm, with a reception to follow.
All of the films and panel discussions will be in both English and Spanish. Admission is free; appetizers and drinks will be provided. Register here or contact Laura Sivels at 240-447-9309 to book your ticket. Registration is required. If space allows, registraion will be available at the door.
We look forward to spending the night watching films, learning, and creating memories. 
--------------------------
El gobierno del Condado de Montgomery presenta el 1er Festival de cine sobre el cambio climático. 
El cambio climático tendrá una repercusión colosal en el condado de Montgomery, pero si todos ponemos un granito de arena, podremos elevar la capacidad de superar conjuntamente las adversidades. Los embajadores del cambio climático del condado de Montgomery recabaron cientos de relatos en los que los miembros de nuestra comunidad narran las razones por las cuales se preocupan por el cambio climático y de qué forma se comprometen a contribuir con este movimiento.  
Todos están cordialmente invitados a disfrutar de una noche llena de un variado menú cinematográfico y gastronómico para entender las repercusiones del cambio climático y ayudar a promover soluciones a nivel local.  El evento tendrá lugar en el AFI Silver Theatre and Cultural Center de Silver Spring, el jueves, 23 de febrero de 2023, de 6 a 8 p. m., y estará seguido de una recepción.
Todas las películas y mesas redondas se presentarán en inglés y español. La entrada es gratuita. Habrá entremeses y bebidas. Registrarse aquí o póngase en contacto con Ana Arriaza al 240-506-4419 para reservar su entrada. Es necesario inscribirse con antelación. Si todavía hay entradas disponibles el día del evento, el registro estará disponible en la puerta.
Contamos con su participación para disfrutar de la noche viendo películas, aprendiendo y acumulando gratos recuerdos.