Our Food, Our Forests, Our Climate: A Benefit for Rainforest Action Network

Thursday, January 30, 2014 from 6:00 PM to 7:30 PM (MST)
Event Details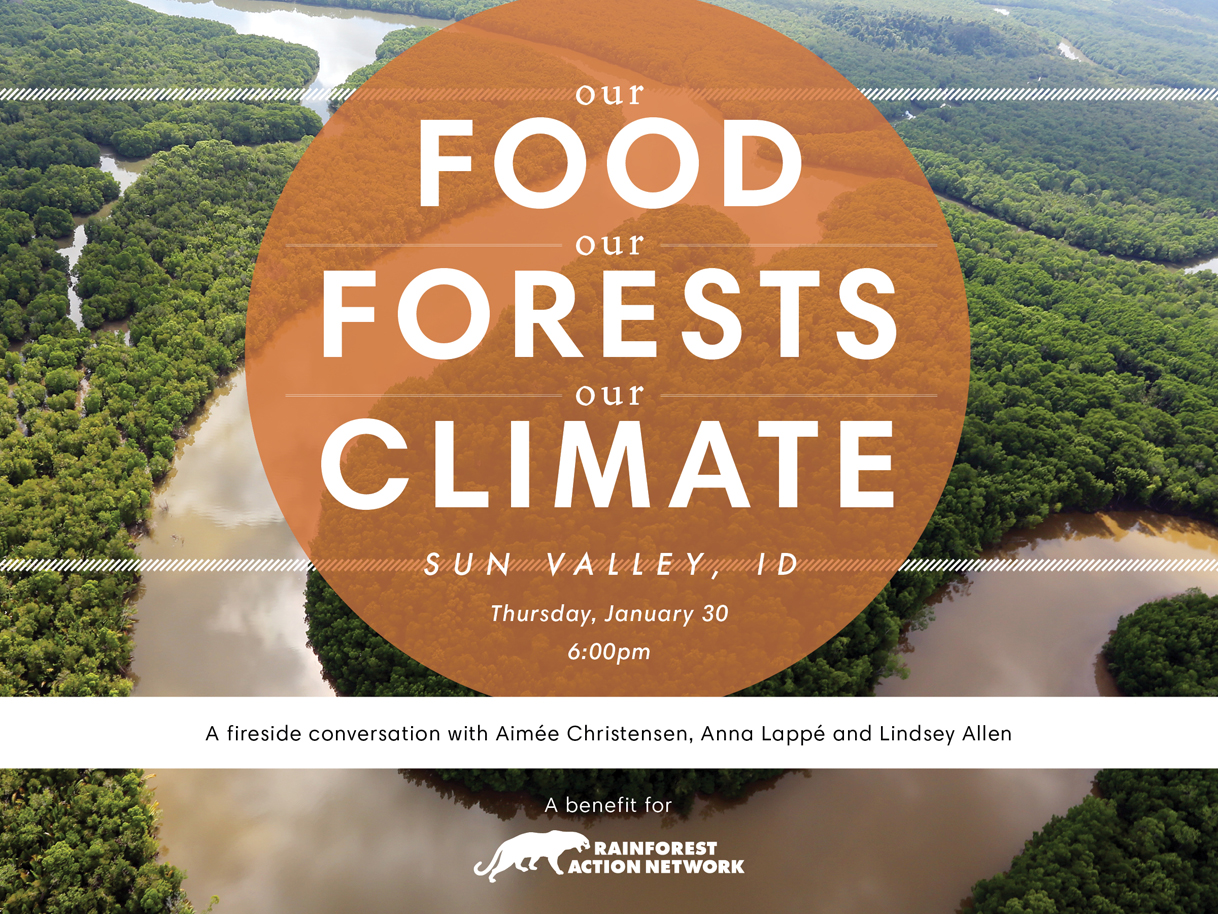 Join Rainforest Action Network and global leader in sustainability Aimée Christensen for a fireside conversation with Anna Lappé, national bestselling author and food activist, and Lindsey Allen, Executive Director of Rainforest Action Network, for an intimate and lively conversation about the connections between climate and our local (as well as global) food system.

Aimée, Anna, and Lindsey will reflect on the interconnectedness of climate and our food system - Idaho bounty, as well as our global consumption of palm oil found in everything from granola bars to Girl Scouts cookies - and what we can do about it.
Join us for this special evening and learn about your connection to this urgent issue and how to connect with an international movement to take action.
Thursday January 30, 2013
Reception 6:00 | Program 7:00
Christensen home, 7 minutes north of Ketchum, ID
Location provided after you RSVP

This event would not be possible without our growing community of sponsors - THANK YOU
Sponsors
Climate Heros: Kim & Andy Castellano/Earthshine Foundation
Locavore: Sue Engelmann, Theo Gund, Muffy Ritz

Hosts
Aimée & Ann Christensen
Host Committee
Kim & Andy Castellano, Peggy Dean, Jeri Howland & Jerry Edelbrock, Jami & Mark Grassi, Christy & Chuck Holloway, Lava Lake Lamb, Erica Linson, Tifney Stewart & Billy Mann, Janet Kellam & Andy Munter, Cindi & Todd Osborn, Sabina Dana Plasse, Muffy Ritz, Kirk Squier Design, Meg & Erik Vorm
In-Kind Sponsors
Atkinsons' Market, Cornerstone Bar & Grill, Nourishme, Play Hard Give Back, Sawtooth Brewery
To learn more about sponsorship levels and benefits, check out the descriptions above or contact Sophie Roudané at sophie@ran.org. You can also contact us to make alternate arrangements for payment if you wish to avoid Eventbrite fees.
All proceeds benefit Rainforest Action Network

The value of the goods and services you will receive in exchange for your contribution is estimated at $75 per general admission ticket. The remainder of your gift will be tax deductible. RAN is a 501(c)(3) nonprofit and our IRS tax identification number is 94-3045180.
 About our featured speakers:
Aimée Christensen is founder and CEO of Christensen Global Strategies collaborating with industries, governments, organizations and individuals worldwide to develop solutions for a strong clean global economy, healthy communities and protection of our natural resources. She is known as a thought-leader who also delivers results. Trained as an environmental and energy lawyer with deep experience in energy policy in Washington, D.C., she brings two decades of experience in climate change and sustainability strategy to the corporate, investment, and philanthropic sectors.
Anna Lappé is founding principal of Small Planet Institute. She a widely respected author and educator, known for her work as an expert on food systems and as a sustainable food advocate. The co-author or author of three books and the contributing author to ten others, Anna's work has been widely translated internationally and featured in The New York Times, Gourmet, Oprah Magazine, among many other outlets. Named one of Time magazine's "eco" Who's-Who, Anna is a founding principal of the Small Planet Institute and the Small Planet Fund. She is currently the head of the Real Food Media Project, a new initiative to spread the story of the power of sustainable food using creative movies, an online action center, and grassroots events.
Lindsey Allen is Executive Director of Rainforest Action Network. Lindsey is a world-class campaigner with more than a decade of experience and an unmatched track record pressuring and inspiring some of the world's largest corporations to protect rainforests. Allen has spent her career preventing commodity expansion into globally critical forest areas, and has played a central role in achieving some of the most significant corporate policy commitments to protect forests over the past decade. A veteran environmental and social justice activist, Allen has expertise in organizing communities to engage in powerful mass mobilizations and direct actions.
When & Where

Christensen Home

Ketchum, ID


Thursday, January 30, 2014 from 6:00 PM to 7:30 PM (MST)
Add to my calendar
Organizer
Rainforest Action Network
Rainforest Action Network, a savvy, hard-hitting environmental action organization, has won more than a dozen landmark commitments from America's largest corporations, including Citi, Home Depot, Goldman Sachs, Kinko's, Boise, Wells Fargo, and Disney.
With some of the most talented environmental agitators in the business, we are committed to running successful campaigns that push companies to balance profits with principles; protect endangered forests and the communities that depend on them; transform North America's dirty energy expansion into a clean energy future; and combat global warming.
Our Food, Our Forests, Our Climate: A Benefit for Rainforest Action Network