Description
Our Energy Renewal: Moving the Clean Economy Forward in the Keystone State (Webinar)
Wednesday, December 7, 2016
12:00 PM to 1:15 PM
Join Environmental Entrepreneurs (E2) and policy experts during this webinar to find out how you and your business or organization can help build the Clean Jobs PA Coalition to work toward growing the Commonwealth's economy and to explore:
The Clean Jobs PA report and Pennsylvania's 66,000 clean energy jobs

Our Energy Renewal Mapping Project – illustrating the location of PA clean energy business; Find out if your company is on the map?

The state of federal climate policy: what we know now

Two bills that may have "legs" in the upcoming 2017 state legislative session:

Property Assessed Clean Energy (P.A.C.E.) to provide a funding mechanism for energy efficiency and renewables

Solar legislation that would "close" the PA SREC border.
Speakers: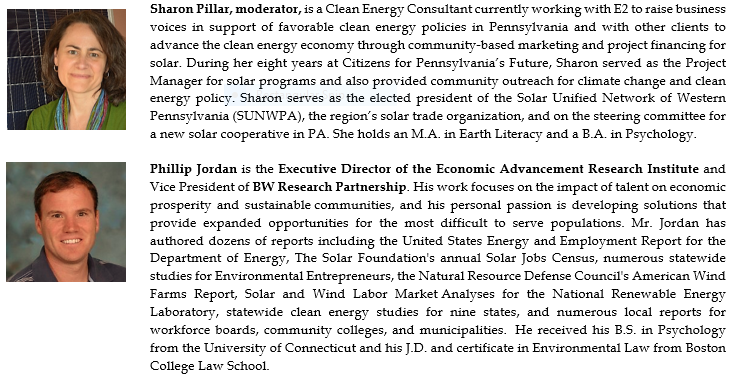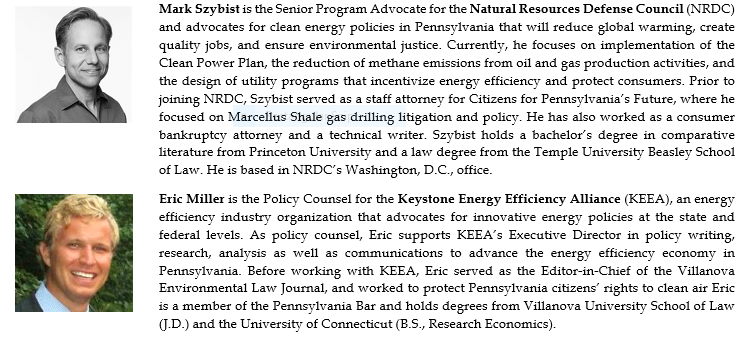 Register at: https://our-energy-renewal.eventbrite.com. For more information, please contact the Pennsylvania Consultant Advocate for E2, Sharon Pillar at pillarsharon@gmail.com or 412-215-5995.