"Our Community, Our Health" Youth Tobacco Prevention Policy
Description
UF HealthStreet is hosting an exciting and engaging town hall, as part of the Our Community, Our Health (OCOH) series, on youth tobacco use trends and prevention policy. This town hall will be community member-centered, and a way to hold an engaging conversation about a complex but timely issue in our state as well as around the country.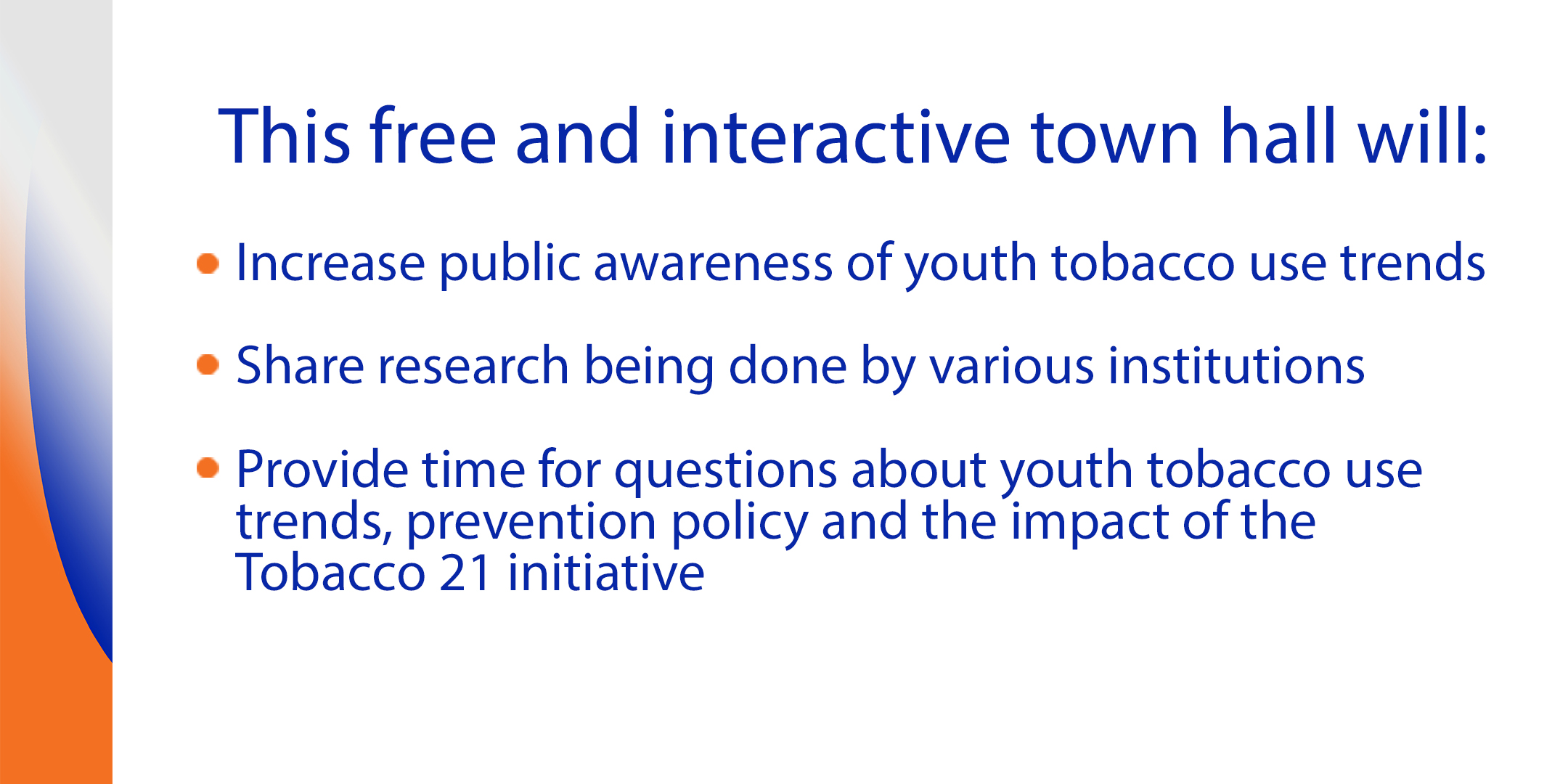 The event date is February 28, 2018, 6:00-7:00 p.m. EDT at UF HealthStreet, and will include a local reception from 5:30-6:00 p.m.
Town Hall goals for this OCOH:

a. Increase public awareness of youth tobacco use trends
b. Share research and data from multiple institutions and organizations
c. Provide time for questions about youth tobacco use trends, prevention policy and the impact of the Tobacco 21 initiative.

Panelists will include:

Dr. Ramzi Salloum, Assistant Professor, UF Health Outcomes & Policy Faculty, Institute for Child Health Policy
Victoria Hunter Gibney, Chair, Tobacco Free Alachua
Andrew Romero, Health Policy Program Manager, Florida Department of Health
Our Community, Our Health (OCOH) is a town hall meeting to facilitate two-way communication between the community and researchers. It is a vehicle to share ideas about priorities for health research, a way to communicate research findings and a way to blend ideas for research from multiple stakeholders across the country. It is held by HealthStreet, a community engagement program in the UF College of Public Health and Health Professions and UF College of Medicine and funded by the UF Clinical and Translational Science Institute. To learn more, visit here.
Can't make it in person? You can still participate by tuning into the live stream at 6 p.m. EST: Click here to watch live!

Livestream viewers: to ask questions during the event, send a text to 22333. Type HSTOCOH212 followed by your question.

Twitter users: tweet questions to @UFHealthStreet using the hashtags #OCOH and #HealthStreet during the event.

If you have questions, contact HealthStreet at (352) 294-4880 or email Chad Douglas at cdouglas@ufl.edu