Our Community, Our Health - Opioids: A Crisis Facing Our Communities
Description
Researchers and physicians from the University of Florida, Nova Southeastern University and Resolute Anesthesia & Pain Solutions are sharing the latest findings on the opioid crisis in the U.S. to address community concerns at a national, live-streamed town hall event called Our Community, Our Health - Opioids: A Crisis Facing Our Communities.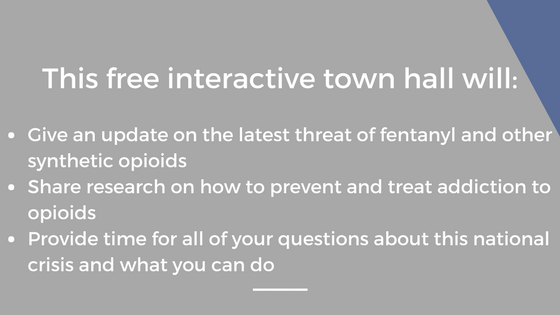 We will discuss all there is to know about the crisis, including relevant research. Opioid misuse and addiction are serious public health issues across the nation that must be addressed. If you want to know more, this town hall event is perfect for you. It will allow you to ask questions and share your ideas directly with the health researchers.
Can't make it in person? You can still participate by tuning into the live stream at 6 p.m. EST: http://bit.ly/2uC1TcS

If you have questions, contact HealthStreet at (352) 294-4880 or email Vicki Piazza at vpiazza@ufl.edu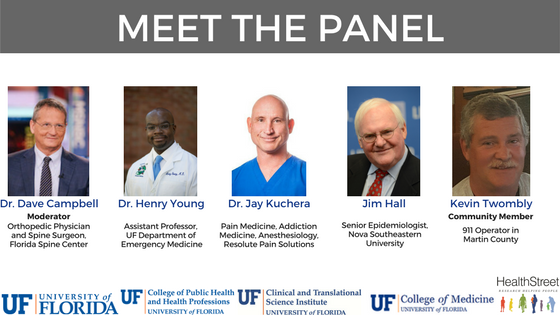 About the Our Community, Our Health initiative:
Our Community, Our Health (OCOH) is a town hall meeting to facilitate two-way communication between the community and researchers. It is a vehicle to share ideas about priorities for health research, a way to communicate research findings and a way to blend ideas for research from multiple stakeholders across the country.
OCOH is a HealthStreet initiative. HealthStreet is a community engagement program in the University of Florida Department of Epidemiology, located in both the UF College of Medicine and UF College of Public Health and Health Professions, and funded by the UF Clinical and Translational Science Institute.
To learn more, visit here
Date and Time
Location
Palm Beach State College PSD Conference Center
4200 South Congress Avenue
Lake Worth, FL 33461