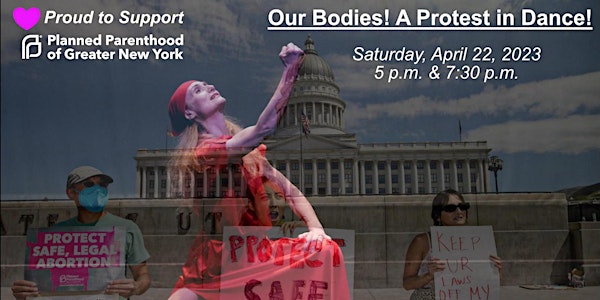 Multiple dates
Our Bodies! A Protest in Dance! April 22 - Program A & B
Choreographers and dancers embody the emotions of all the bodies on the line.
By Sangeeta Yesley, Creative Performances
Date and time
Starts on Saturday, April 22 · 5pm EDT
Location
The 14 Y Theater 344 East 14th Street New York, NY 10003
Refund Policy
Contact the organizer to request a refund.
Eventbrite's fee is nonrefundable.
About this event
In the wake of the Supreme Court's reversal of Roe, we turned to the powerful medium of dance to capture the profound impact of this decision. With choreographers and dancers as the emissaries for all those whose bodies are now on the line, we challenged them to use their bodies to convey the weight and complexity of this historic moment.
In a bold and impassioned move, Creative Performances commissioned 10 visionary choreographers to use their artistry and movement to take a stand on one of the most pressing social issues of our time: Women's Bodily Autonomy. The result is a collection of stunning dance works that eloquently and powerfully advocate for Reproductive Justice and access to Safe and Legal Abortion. These choreographers have woven together a tapestry of movement and meaning that will leave audiences moved and inspired, and reminds us of the transformative power of art to ignite change!
On April 22nd, at this event, these 10 dance vignettes will be presented under the title "Our Bodies! A Protest in Dance!"!
Please join us protesting for Women's Bodily Autonomy and Reproductive Justice.
Venue: 14Y Theater, 344 East 14th Street at First Ave, New York, NY 10003.
Two Shows :5 p.m. AND 7:30 p.m. (Box office opens 30 minutes before show time)
* TICKETS:
EARLY BIRD till APRIL 1 - $18 - General Admission ONLY.
In Advance: VIP - $30 Front Row Seats; General Admission - $22; Student Admission (with valid student ID) - $17. + Eventbrite processing fees.
At the Door (Cash or with EB QR Code): VIP - $35 Front Row Seats; General Admission - $25; Student Admission (with valid student ID) - $20.
Would you like to see both programs at 5 p.m. & 7:30 p.m.? You can reserve a ticket for both shows for $40.
* SHOWS:
** 5 p.m. Show: Program A. Duration 45 minutes.
Alli Bradley; Anthony Alterio; Beth Jucovy/ Dance Visions NY; Erica Isakower /Chutzpah Dance; Sara Pizzi & Aika Takeshima/sarAika movement collective.
** 7:30 p.m. Show : Program B. Duration 45 minutes.
Darrigan DeMattos/ Unspoken Dance; Jennifer Roit/ Armada Dance; Kayla Yee; Rainy Demerson; Vanessa Martínez de Baños & Ashley Carter/ DoubleTake Dance.
Featuring Choreographers/Dance Companies:
Alli Bradley is a New York-based dance artist and choreographer. Alli has danced in works choreographed by Ani Javian, Douglas Nielson, Leslie Dworkin, Nathan Andary, Chungxin Wei, Emily Barasch, and Chris Ferris. Additionally, Alli was a company member of Wild She Dances from 2017-2020.
Anthony Alterio is on faculty in the Theatre & Dance Department as Assistant Professor of Dance at State University of New York (SUNY) at Fredonia. His research explores how representations of identities in the LGBTQIA+ community in pop culture as part of a larger interest in how dancers present themselves.
Beth Jucovy is artistic director and choreographer of Dance Visions NY which presents Isadora Duncan repertory as well as contemporary works often inspired by the aesthetic. Beth's full length programs have been presented extensively throughout the NY metropolitan area and beyond and her works are often presented at NYC showcases.
Darrigan DeMattos/ Unspoken Dance
Unspoken Dance is a newly formed dance company, founded my Darrigan DeMattos.
Erica Isakower/ Chutzpah Dance
Erica Isakower holds a Bachelor of Fine Arts in Dance from Hofstra University. She is the artistic director, choreographer, and dancer for Chutzpah Dance. Her work has been shown in New York City, Philadelphia, Salt Lake City, and various cities in New Jersey. Additionally, she recently was a guest artist setting a new work on Bucks County Community College in PA and she recently finished her residency with Broward College in Florida where she set a new work on students in addition to teaching workshop classes. Currently, she is also a company dancer with Equilibrium Dance Company based in Philadelphia. Follow @chutzpahdance on Instagram to stay up to date on upcoming performances and opportunities!
With her company, Armada Dance, Jen Roit's work has been presented at Dixon place, The Actor's Fund, Ailey Citigroup Theater, Triskelion, Liberty Hall Dance Festival (NJ), and Ticino in Danza (Switzerland). Armada Dance strives to make dance accessible to broader audiences through narrative dance and artistic collaboration.
Kayla is a dance-theatre artist, fitness motivator, and environmental activist. She earned a BFA in Drama from NYU Tisch School of the Arts with minors in dance & producing, and certificates in Personal Training and Corrective Exercise from the International Sports Sciences Association. Her original choreography, "In 50 Years," examines the intersection of climate change and collective social trauma via dance, music, and spoken word. The piece presented in festivals including Move to Change, Nasty Women Unite, and NYCFringe. Other performance and choreography credits include: "Hot Lips" (NACHMO Productions), "Crossing Nature" (Move to Change Festival), "We're All Immigrants" (Reaction Dance Company), "Tanya's Lit Clit" (Experimental Bitch Presents), and "Check All That Apply" (WestFest Dance Festival).
Rainy Demerson is a dance artist and scholar invested in intersectional feminism and decolonial embodiments. Her work has been presented in South Africa, Senegal, and across the United States. She is currently a Lecturer at the University of the West Indies Cave Hill in Barbados.
Sara Pizzi & Aika Takeshima/ sarAika movement collective
sarAika is a movement collective based in New York since 2021, founded by Aika Takeshima and Sara Pizzi. Our art is a form of activism, documenting topical aspects to generate awareness and reflection by breaking the concept of standard performance creating contemporary, collaborative, conceptual, interactive dance art experiences.
Vanessa Martínez de Baños & Ashley Carter / DoubleTake Dance
DoubleTake Dance is in its 14th year as a professional dance company, currently directed by Vanessa Martínez de Baños. DoubleTake Dance has been featured in shows/venues such as NYC SummerStage, Battery Dance Festival, Carnival Choreographers Ball, Webster Hall, New York Fashion Week, the ACLU's 100th Birthday, NYC Half Marathon, Fuse TV, The NY Jazz Choreography Project, the Baltimore Invitational, Hartford's Riverfront Recapture, Newburgh Illuminated… as well as several films, music videos, commercials and industrials. DoubleTake Dance has received choreographic commissions from Higher Ground, Periapsis in NYC, City Artists Grant, the renowned Dancing Wheels company (Cleveland, OH), HT Chen's Newsteps (NY), Jamaica Performing Arts Center's Next Stage Choreography Commission and Residency (NY), and has been featured in Dance Informa Magazine. DoubleTake Dance teaches master classes/workshops/choreography all over the country and overseas and offers open ongoing classes in NYC.
We are immensely proud to support Planned Parenthood.
If you have any questions, please reach out to creativeperformances.nyc@gmail.com
**Creative Performances is a 501(C) 3 approved non-profit organization, registered in the State of New York.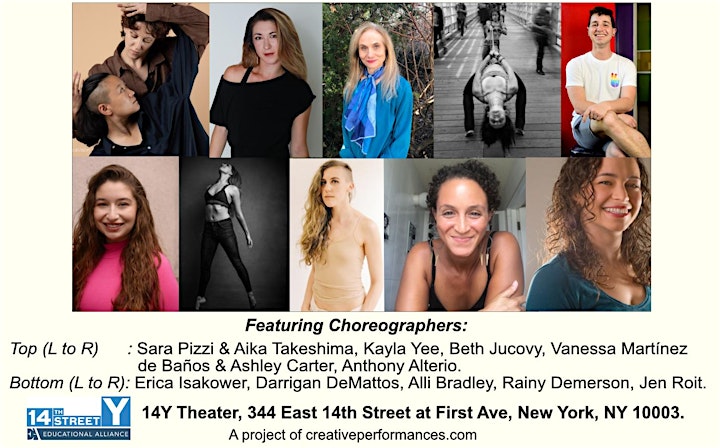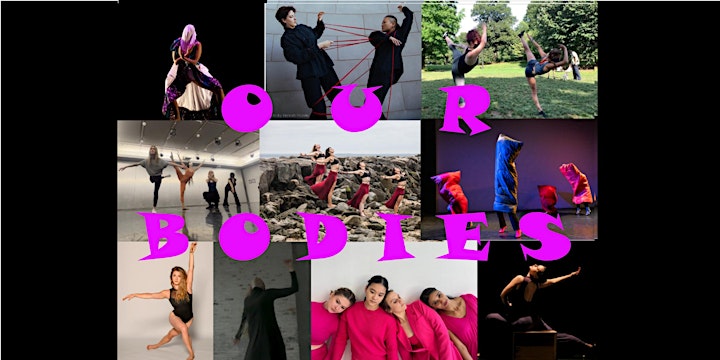 About the organizer
Sangeeta is an independent producer of arts and entertainment events with a background in dance.  She loves producing hybrid events/ shows exploring relationships between dance and other art forms. 
She is the Founder/Director of Creative Performances.  Her projects include StylePointe Fashion Show, NYC Drawing the Dance Workshop and Dixon Connect – Networking for everyone creative. 
She is a dance curator at Dixon Place, NYC, curating Fast Forward (8 shows a year), 8 in Show (4 shows a year) and 30-30-30, an End of Year Dance Benefit. 
Sangeeta strives to create platforms to help emerging artists in NYC progress in their professional careers.