Our memories. Our lives. Our AIDS Story.
About this event
HIV/AIDS has touched the lives of so many in Northeast Ohio. To accompany our exhibitions of the National AIDS Memorial Quilt, the Artists Archive of the Western Reserve and the Museum of Contemporary Art Cleveland will come together to host two collaborative story sharing programs. Grounded in community-building and healing, these unique programs will be structured as inclusive story sharing circles.
All are welcome to join these discussions and share their memories and experiences in a safe and nurturing environment. Attendance is limited and advance registration is required. All attendees are required to wear masks.
PART 2
Wednesday, December 1 at moCa Cleveland
Hosted on World AIDS Day during moCa's presentation of Axis Mundo: Queer Networks in Chicano L.A.
Facilitated by Jen McMillen Smith, a social work specialist in the Department of Medicine, Infectious Disease at MetroHealth and coordinator of MetroHealth's biennial exhibition of the AIDS Memorial Quilt.
MetroHealth participates in the nationwide Center for AIDS Research at Case Western Reserve University, providing opportunities for people living with HIV to participate in studies of new treatments.
Register for the Dec 1 on this page.
PART 1
Saturday, September 25 at Artists Archive of the Western Reserve
Hosted during the Artists Archive presentation of CONVERGE, an exhibition of Ohio LGBTQ artists.
Facilitated by Rabbi Rachel Davidson, Chaplain Resident at the VA Medical Center, and including stories from CONVERGE artists Brett Hines, William Martin Jean, Gil Kudrin, Jessica Pinsky, and Dan Rothenfeld.
Register for the Sep 25 program at this link.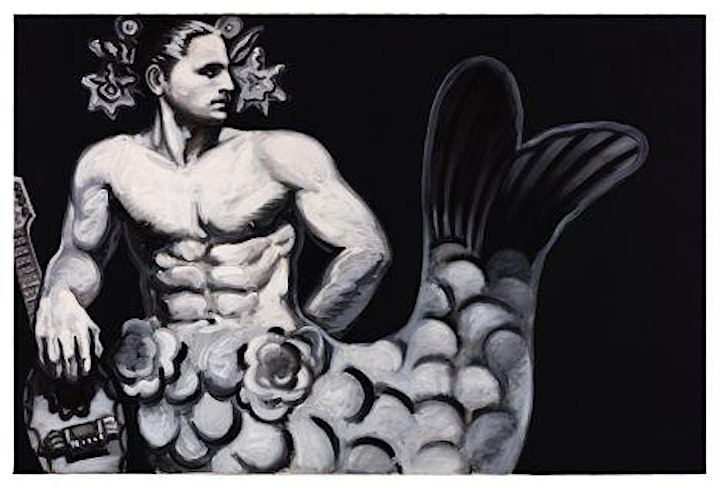 Mundo Meza, Merman with Mandolin, 1984. Acrylic on canvas, 72 x 111 in. (182.9 x 281.9 cm). Collection of Jef Huereque. Photo by Fredrik Nilsen. Courtesy of Pat Meza
Currently at the Museum of Contemporary Art Cleveland (moCa), Axis Mundo: Queer Networks in Chicano L.A. maps the intersections and collaborations among a network of Los Angeles based queer Chicano artists and their artistic collaborators between the late 1960s and early 1990s. Taking its title in deference to the artist Edmundo "Mundo" Meza (1955-1985), a central figure within his generation, Axis Mundo presents over two decades of work—painting, performance ephemera, print material, video, music, fashion, and photography—created in the context of significant artistic and cultural movements, from the emergence of the Chicano civil rights, women's, and LGBTQ liberation movements through to the political activism around the AIDS epidemic.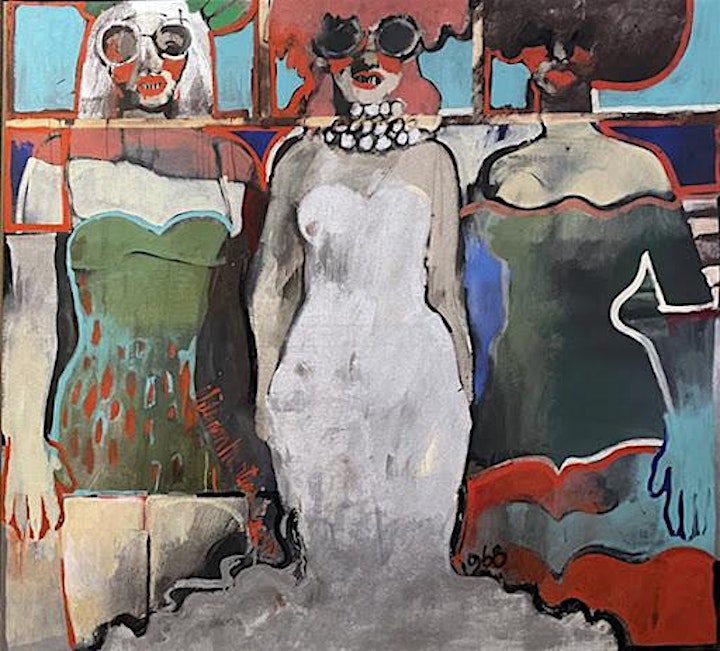 William Martin Jean, Three Goddesses, 1968. Acrylic on canvas, 55x57 in.
CONVERGE, a group exhibition of over 70 artists presented by the Artists Archive of the Western Reserve (AAWR) picks up where Axis Mundo concludes, showing recent work by the LGBTQ artistic community of the Western Reserve. As in Axis Mundo, CONVERGE showcases stories that range from protest, pride, and transformation, to simple joy in the aesthetics of beauty and act of creation.
Axis Mundo and CONVERGE highlight the contributions of many under-recognized artists, solidifying their presence in the archives of art history. In concert with these exhibitions, both moCa and AAWR will display blocks of the National AIDS Memorial Quilt.
Organizer of Our AIDS Story Sharing at moCa Cleveland
The Museum of Contemporary Art is a unique and dynamic place for the visual art of our time. We challenge, inspire and teach a wide range of audiences. Our purpose is to push the boundaries of innovation, creativity and exploration through exhibitions, publications, education and outreach programs.