OuiShare Mini Conferência Rio de Janeiro

Saturday, August 17, 2013 from 5:30 PM to 8:30 PM (Brasilia Standard Time Brazil (Sao Paulo) Time)
Event Details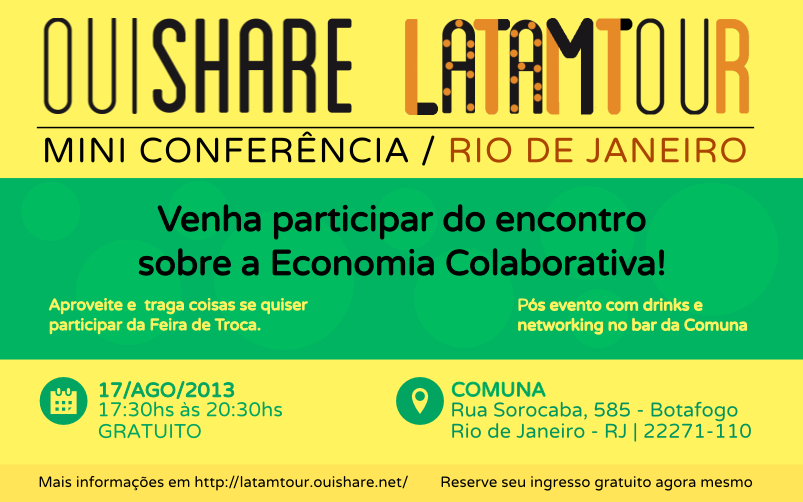 O OuiShare chegou ao Rio de Janeiro!
Venham à Mini-Conferência da Economia Colaborativa, liderada pela rede OuiShare.
Homenageando a visita de dois lideres da rede OuiShare da economia colaborativa da Europa, fazendo tour pela America Latina, estamos convidando vocês ao encontro carioca desse movimento. Estes lideres são Antonin Léonard, Co-fundador e Connector Global, e Albert Cañigueral, Conector Espanhol.
Será uma grande oportunidade para compartilhar idéias com participantes e líderes locais da Economia Colaborativa através de palestras e reuniões colaborativas (estilo Open Space) sobre temas e tendências significativas da comunidade.
Os temas e palestras serão:
- Produção e Consumo Colaborativo:  Bolacha, Carona com Você, Catarse, +Asas, e Timerepublik
- Espaços Compartilhados no Trabalho e em Casa: Comuna, Couchsurfing, Criandeiros/Worksurfing, e LUZ Consultaria
- Metodologias para Criar Comunidade: Brazilidade, Casa Sou.l, Comércio Sagrado Brasil, Hub Rio e Rio Comum 
- Ativismo e Intervenção Urbana: Imagina na Copa, Midia Ninja, Nos.vc, Rio+/Benfeitoria, e Simplicidades
Terminamos o evento com drinks, networking, e amigos no bar da Comuna.
O ingresso para o evento é gratuito. Tragam algo (livro, roupa, DVD, etc) se quiserem participar da feira de troca, que ocorrerá durante o evento.
Junte-se a nós!
Olivia Frazão e Karen Demavivas
Co-organizadoras e Conectoras de OuiShare Rio
When & Where

Comuna
585 Rua Sorocaba
Rio de Janeiro, Rio de Janeiro 22271-110
Brazil

Saturday, August 17, 2013 from 5:30 PM to 8:30 PM (Brasilia Standard Time Brazil (Sao Paulo) Time)
Add to my calendar
Organizer
OuiShare Latam Tour 2013
After more than 40 Drinks and Talks in 20 European cities, a France Tour and the OuiShare Fest in May, OuiShare decided to explore Latin America.
From 16th to 31st August, the OuiShare Latam Tour Team will spread the word about the Collaborative Economy, meet local entrepreneurs, economists, designers, researchers and public officials organizing:
Drinks - get together for Collaborative Economy Professionals (pitch session for startups)

Talks - inviting knowledgeable speakers to give talks about specific topics of the Collaborative Economy and global trends

Workshops - customized workshops for organizations : Introduction to the Collaborative Economy, analysis of its impact on a specific industry or organization
OuiShare Mini Conferência Rio de Janeiro