OuiShare Latam Tour Fiesta

Friday, August 30, 2013 from 9:00 AM to 11:00 PM (PDT)
Event Details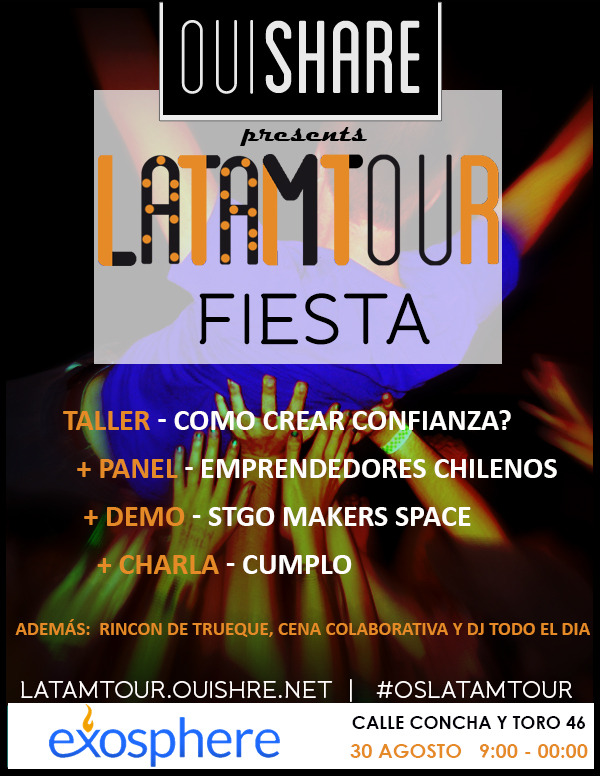 Join us for the last day of the OS Latam Tour and get the most out of the Fiesta!
We invite you for a journey discovering various collaborative economy initiatives. Learn about entrepreneurs' experiences and challenges, get to know what a 3D printer is (and actually touch it with your own hands), take part of a creativity workshop aiming at providing solutions for building trust on an individual, group and platform level. And a lot more ...
Program:
9:30 -10:00 Registration for the workshop
10:0 - 13:00 Creativity workshop about building Trust
14:00 - 15:00 Registration and networking with DJ
15:00 - 16:00 Roundtable with entrepreneurs from the
collaborative economy
16:00 - 16:30 Presentation of the morning workshop results
16:30 - 17:00 Networking session with DJ
17:00 - 18:00 Santiago Makers Space: talk+demo
18:00 - 18:30
Networking session with DJ
18:30 - 19:30 Talk of Jean Boudeguer from
Cumplo, the number one peer-to-peer lending platform in Chile
19:30 - 19:45 Closing Talk from OuiShare
20:00 - 23:00 Collaborative dinner
and DJ

(Terri and Rich, an amazing duo from San Diego)
All day long: Swapping corner powered by Troker (Bring one, take one)
A special thanks to our sponsors: TripnCo, Leetchi and Airbnb!
Adress:
The Google Map link is wrong, this is the correct adress (in Barrio Brasil, near to Mtero los Héroes): https://maps.google.com/maps?q=concha+y+toro+46&hl=es-419&ie=UTF8&ll=-33.445166,-70.665586&spn=0.005345,0.010042&sll=-33.445972,-70.664427&sspn=0.005309,0.010042&hnear=Concha+y+Toro+46,+Santiago,+Regi%C3%B3n+Metropolitana,+Chile&t=m&z=17
When & Where

Exosphere
46 Concha y Toro
Santiago, Santiago Metropolitan Region
Chile

Friday, August 30, 2013 from 9:00 AM to 11:00 PM (PDT)
Add to my calendar
Organizer
OuiShare Latam Tour 2013
After more than 40 Drinks and Talks in 20 European cities, a France Tour and the OuiShare Fest in May, OuiShare decided to explore Latin America.
From 16th to 31st August, the OuiShare Latam Tour Team will spread the word about the Collaborative Economy, meet local entrepreneurs, economists, designers, researchers and public officials organizing:
Drinks - get together for Collaborative Economy Professionals (pitch session for startups)

Talks - inviting knowledgeable speakers to give talks about specific topics of the Collaborative Economy and global trends

Workshops - customized workshops for organizations : Introduction to the Collaborative Economy, analysis of its impact on a specific industry or organization
OuiShare Latam Tour Fiesta