OUGN Oracle ACE Director Tour 2012

Thursday, October 25, 2012 at 8:30 AM (CEST)
Event Details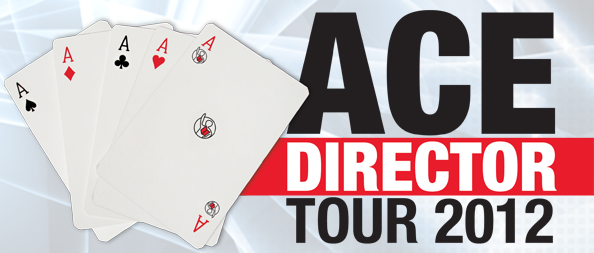 Oracle User Group Norway har gleden av å innvitere til
OUGN Oracle ACE Director Tour 2012
Brukerforeningene i Norge, Sverige, Finnland og Danmark har i fellesskap invitert noen av verdens beste foredragsholdere i Oracle verden til å gjøre en felles turne i Norden.
Flere Oracle ACE Director´s kommer nå til en by nær deg!
23.10: København
24.10: Stockholm
25.10: Oslo
26.10: Helsinki
Dette er tidenes første ACE Director Tour. Dette kan bli en ny tradisjon for de Nordiske brukerforeningene. 
Konferansen holdes på Radisson Blu Hotel Nydalen i Oslo. Vi har kun 130 plasser så her gjelder det å være tidlig ute. De fleste av foredragsholderne har besøkt OUGN Vårseminar eller OUGN SIG-seminar tidligere.
Dersom du har spørsmål, som ikke er besvart i FAQen nederst på denne side, send e-post til ace2012@ougn.no
AGENDA
08.30-09.00
 

Registrering (te/kaffe)

09.00-10.00

Key Note: Carl Dudley
SQL  - Tips, Techniques and Traps to Avoid
 

10.00-10.30

Pause

 

10.30-11.30

Tanel Poder
Troubleshooting the Most Complex Oracle Performance Problem I've Ever Seen
 

Alex Nuijtn
Getting Started with APEX Plugin Development

11.30-11.45



Pause

11.45-12.45

Mark Rittman
Integrating Oracle Business Intelligence with Oracle Fusion Middleware: Tips and Techniques
 

Sten Vesterli
What's Hot and What's Not - an Overview of Oracle Development Tools

12.45-13.45
 

Lunch 

13.45-14.45

Tanel Poder
Drilling Deep into Exadata Performance with ASH, SQL Monitoring and ExaSnapper

Mark Rittman
Oracle Endeca Information Discovery for Oracle Business Intelligence/Data Warehouse Developers
 

14.45-15.00

Pause

 

15.00-16.00

Carl Dudley
Oracle 11g Database Auditing Techniques

Alex Nuijtn
Who's Afraid of Analytic Functions?
 

16.00-16.10
 

Pause 

16.10-16.40

Sten Vesterli
The Future of Oracle
 

16.40-17.30

Finger food …
 
Informasjon om dagens foredragsholdere:
Carl Dudley
Carl Dudley holds the post of Professor in Oracle Database Technology. He has been active within the Oracle environment for the last 24 years, being a director of the UK Oracle User Group and speaking regularly at international conferences since 1991. He has also participated in the SQL Standards ISO group. In November 2002, Carl was selected as 'DBA of the Year' by Oracle Corporation. This worldwide award was given to him in recognition of his contribution to the Oracle user community and his work on innovative Oracle Server projects. Carl achieved Oracle ACE Director status in 2009.
Tanel Poder
Tanel Poder is the managing director and technology evangelist at the European operations of Enkitec, a leading consulting firm with over 60 Exadata implementations completed to date. He is one of the first Oracle Certified Masters in the world, an Oracle ACE Director and a proud member of the OakTable Network. Tanel recently co-authored the Expert Oracle Exadata book published by Apress and shares his articles, scripts and tools in his blog at http://blog.tanelpoder.com
Mark Rittman
Mark Rittman is an Oracle ACE Director, executive board member for ODTUG, and Technical Director for Rittman Mead, a worldwide Oracle BI&DW consulting partner. Mark writes regulary for Oracle Magazine on Oracle BI, and is author of the Oracle Press book, "Oracle Business Intelligence Developers Guide"
Alex Nuijten
Alex Nuijten is an Oracle ACE Director and Expertise Lead (Database Development) for AMIS Services BV in Nieuwegein, The Netherlands. Besides his consultancy work, he also conducts training classes and authored numerous articles in a Dutch Oracle Magazine. He also does presentation at National and International Conferences, and is a frequent contributor at the Oracle Technology Network forum for SQL and PL/SQL. At regular intervals he writes about Oracle technology on the AMIS technology Blog and his own Blog which can be found at Nuijten.blogspot.com
Sten Vesterli
Sten Vesterli is an Oracle ACE Director, recipient of the ODTUG 2009 Best Speaker award and author of "Oracle ADF Enterprise Application Development - made simple" and "Oracle Web Applications 101". He is a frequent speaker at Oracle conferences and has written more than sixty articles and conference papers on Oracle development. Sten works as a consultant, developer, and trainer and lives in Denmark, where he is a partner in Scott/Tiger, an Oracle-focused consultancy.
FAQs 
Hvordan kommer jeg til hotellet? Er det  muligheter for parkering?
Sjekk hotellets webside: http://www.radissonblu.com/hotelnydalen-oslo/location Ta eventuelt kontakt med hotellet direkte. OUGN anbefaler bruk av kollektivtransport. 
Hvor kan jeg henvende meg eventuelle spørsmål?
Send e-post til ace2012@ougn.no
Kan min registrering / billett overføres til andre?
Ja, bare logg inn og endre navnet på billetten. I e-posten som du mottok etter registrering finner du informasjon om hvordan du kan overføre din billett til andre (oppdatere din bestilling).
Kan jeg selv oppdatere min registreringsinformasjon?
Ja, i e-posten som du mottok etter registrering finner du informasjon om hvordan du kan oppdatere din bestilling.
Må jeg ta med utskrift av min billett?
Nei, men det kan gjøre registreringen raskere.
Hvilke muligheter har jeg for å få refundert billett?
I e-posten som du mottok etter registrering finner du informasjon om hvordan du kan kansellere din bestilling. 
Navnet på min billett / registrering stemmer ikke med deltager. Er det ok?
Nei, bare de som har registrering i eget navn kan delta.

When & Where

Radisson Blu Hotel Nydalen
33 Nydalsveien
0484 Oslo
Norway


Thursday, October 25, 2012 at 8:30 AM (CEST)
Add to my calendar
Organizer
Oracle User Group Norway
Hva er OUGN?
Oracle User Group Norway (OUGN) har som mål å være et forum for utveksling av erfaring mellom brukerne, og å spre Oracle-relatert kunnskap.
OUGN arbeider for å fremme medlemmenes interesser overfor Oracle Norge, og i samarbeid med European Oracle User Group og International Oracle User Group også overfor Oracle Corporation.
OUGN er en uavhengig forening som drives på non-profit basis.
OUGN er åpen for organisasjoner som benytter Oracle produkter.
Hva kan OUGN tilby deg?
Heldagsmøter med et vidt spekter av Oracle-relaterte temaer.
Ettermiddagsmøter som tar for seg enkelttemaer.
Egen interessegruppe for Oracle Applications
Seminarer som tilbyr fordypning i et eller flere områder
Mulighet til å påvirke Oracle på nasjonalt nivå, og på europeisk og internasjonalt nivå gjennom formidling av ønsker via European Oracle User Group og International Oracle User Group.
Se våre webbsider på ougn.no for mer informasjon.
OUGN Oracle ACE Director Tour 2012