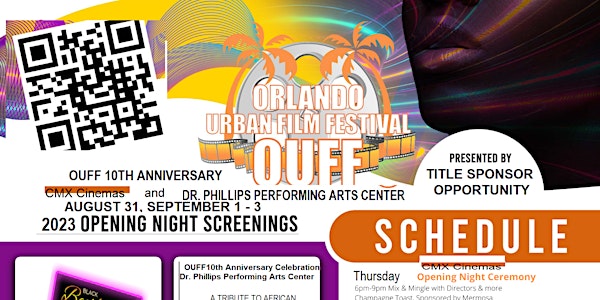 OUFF 2023 10th Anniv. "Movie, Music" We Welcome South Africa & AU Creators
OUFF's 2023 10th Anniversary Showcasing Global "Movie, Music, Art, Tech Content Creators" & Welcome South Africa & other African Countries
By Orlando Urban Music and Film Festival
Date and time
August 31 · 5pm - September 2 · 12pm EDT
Location
CMX Cinemas Plaza Café 12 (Formerly Cobb Theatres) 155 South Orange Avenue Orlando, FL 32801
About this event
1 day 19 hours

Mobile eTicket
LIVE at OUFF 2023! Dunn Pearson, Jr.
Here is your chance to meet one of the most talented Pianist, Composer, Arranger, and Producer of our time, Dunn Pearson Jr.
Dunn a.k.a as the Black Beethoven will perform his Classical Renditions of some of the Biggest Movie Scores. Dunn has produced and arranged for some of the Biggest artists and scored some of the biggest films and TV Shows in the music business i.e. the O'Jays, Mary J., Luther Vandross, D'Angelo, and the list goes on and on, including hit TV shows like New York Undercover . . . click Dunn's Bio Video Links below and see for yourself.
Tickets Are Limited!
Orlando Urban Music, Film & Tech Fest
OUFF's 2023 10th Anniversary Showcasing Global "Movie, Music, Art, Technology." We welcome S. Africa, and their Music and Film Creators from other African Countries.
OUFF's purpose is to help local, national, and global content creators and talent connect for future collaborations. Selected featured projects include films, actors, animations, avatars, graphics, 3-D visuals, performing artists, and industry executives to share their knowledge and support our Rising Stars.
The Saturday Awards Celebration includes a live concert performance with Legendary Famed Music and Film Composer and Pianist Dunn Pearson, Jr.
Technology continues to enhance the way entertainment and art are created and how it influences people's experiences. OUFF showcases will be held at CMX Cinemas Downtown Orlando, Thursday, August 31, Friday, September 1, and Saturday, September 2, 2023.
On the evening of Saturday, September 2, 2023, the OUFF 10th Anniversary, Live Concert Performance and Awards Presentation featuring Legendary Famed Music Producer, Film Composer, and Extraordinary Pianist Dunn Pearson, Jr.
Dunn (a.k.a The Black Beethoven) and his Special Guests (to be announced) will perform on the Big Stage to share his works honoring Black Composers and his Classical Renditions of Hit Music Scores from several well-known "Hit Movies".
We will also Welcome our S. Africa and African Guests.
The OUFF Awards and concert will be held at the Dr. Phillips Performing Arts Center. 
Stay Tuned For More Information and visit our website www.orlandouff.com.
Tickets are limited so get yours today before the event sells out!
You do not want to miss this once-in-a-lifetime event!
Thank You To All Of Our Sponsors!
About the organizer
Orlando Urban Film Festival (OUFF) Award Winner Filmmakers, Artists, and Superstar Talent. 
OUFF is empowering, uplifting and inspiring.  
You will be a part of the Orlando Urban Film Festival's (OUFF) Award Winner Screenings, Artists Performances and Presentations for local, national and international talent.
Meet & Greet the Winning Directors, Music Producers & Artists, Filmmakers, and Tech Creators at the Orlando Urban Film Festival.
You will be inspired, educated, and connected to a global community through movies, music, conversation, and so much more!
Please contact us at 216-256-8060 or email: orlandourbanfilmfestival@gmail.com and visit our website https://www.orlandouff.com and  https://orlandourbanfilmfestival.eventbrite.com where you can get additional information on the Orlando Urban Film Festival (OUFF).
Interested Sponsors, please note, that we are ready to customize a sponsorship or presenter opportunity that will serve to meet your organization's goals and objectives.