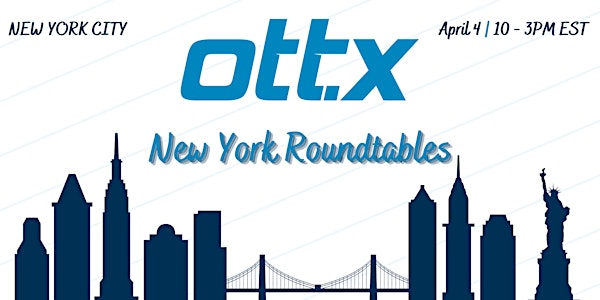 OTT.X New York Roundtable Discussions
OTT.X will host exclusive Roundtable discussions for its members and their select guests on April 4, 2023 in New York City.
Date and time
Tuesday, April 4 · 10am - 3pm EDT
Location
OFFSITE 52 West 39th Street New York, NY 10018
About this event
OTT.X will host exclusive Roundtable discussions in New York City for its members and their guests on April 4, 2023.
Roundtable discussions are lively, informal discussions among leaders from across the industry around specific topics providing opportunities to share learnings, collaborate on ideas and support industry growth and efficiencies.
Topics are introduced and discussed at large followed by breakout groups that allow attendees to dive deeper into the topic of their choice.
Roundtable discussions will be proceeded by a networking Happy Hour.
This is a free exclusive event for OTT.X members and their (limited) invited guests. OTT.X members will have to register and indicate their guest in the sign-up form before a guest may register.
About the organizer
OTT.X (formerly EMA) is a not-for-profit international trade association whose mission is to connect and nurture the OTT ecosystem enabling innovation, collaboration, and competition.

The trade association supports the overall commercial OTT ecosystem for the distribution of audiovisual entertainment, including:
Companies engaged in distribution through TVOD, SVOD and AVOD to the consumer via OTT downloading and streaming, including digital retailers, MVPDs, and digital channels/networks.
Platforms via which retailers or distribution channels are served to the consumer including vMVPDs, and elecronics/hardware manufacturers
Companies creating and/or distributing content to these channels of distribution
Companies providing services and or technology for the use of others in this community
OTT.X activities include presenting conferences, networking, and information sharing opportunities, and developing and promoting industry standards, specifications, and best practices.