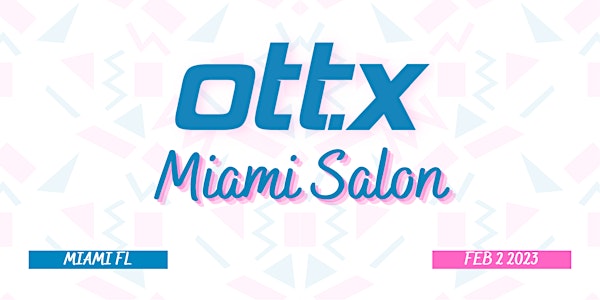 OTT.X Miami Salon
OTT.X will host an exclusive cocktail reception for its members & invited guests in Miami Florida on February 2nd 2023
When and where
Location
R House Wynwood 2727 Northwest 2nd Avenue Miami, FL 33127
About this event
English:
OTT.X is delighted to host an exclusive salon & cocktail reception for its members & invited guests at R House Wynwood in Miami Florida on February 2nd, 2023.
The event will provide opportunities for new international business ventures and connections between the OTT.X community & key industry executives in Latin America, one of the fastest growing streaming regions.
Latin American channels, publishers and media will learn about OTT best practices, processes, procedures & business models that will help accelerate profitable adoption & implementation.
The OTT.X community will learn about emerging opportunities and strategies for expansion in Latin American markets.
OTT.X salons serve as an open forum for our community to gather, discuss timely OTT topics & trends, and enjoy some food and drinks, courtesy of OTT.X.
The OTT.X Miami Salon is exclusive to OTT.X members and select invited guests.

OTT.X está encantado de organizar una exclusiva recepción de salón y cóctel para sus miembros e invitados en R House Wynwood en Miami Florida el 2 de febrero de 2023.
El evento proporcionará oportunidades para nuevos negocios internacionales y conexiones entre la comunidad de OTT. X y ejecutivos clave de la industria en América Latina, una de las regiones de streaming de más rápido crecimiento.
Los canales, editores y medios latinoamericanos aprenderán sobre las mejores prácticas, procesos, procedimientos y modelos de negocio de las OTT; que ayudarán a acelerar una rentable adopción e implementación.
La comunidad OTT.X aprenderá sobre oportunidades emergentes y estrategias para la expansión en mercados latinoamericanos.
Los cócteles organizados por OTT.X sirven como un foro abierto para que nuestra comunidad se reúna, discuta temas y tendencias sobre las OTT, y disfrute de algunos aperitivos y tragos, cortesía de OTT.X.
La recepción de salón y cóctel es exclusiva para los miembros de OTT.X e invitados selectos.