This online conference will provide opportunities for a diverse population of junior professionals to meet & learn from experienced leaders
About this event
In order to develop leaders and encourage inclusion and diversity in the OTT industry, OTT.X, the industry trade association supporting the OTT video ecosystem, will host its 2nd Leadership Development Foundation Summit on May 4, 2021.
The summit will feature three components including 1) A conference session comprised of career and leadership development presentations delivered by successful executives, leaders and subject matter experts, 2) a series of panel discussion sessions between industry executives and conference attendees and 3) Allyship and mentorship networking sessions providing the opportunity for informal connections with a wide range of professionals.
"The goal of the conference is to help prepare an inclusive population of professionals interested in advancing in business and technical roles in the entertainment industry with resources to support the development of their leadership skills, contacts and confidence," said Mark Fisher, OTT.X President and CEO. "Supporting the growth and professional development of our people and the diversity of those holding leadership positions is vital to our industry's continued success.
Our Leadership Development Summit provides a platform for leaders to share valuable insights and for professionals of all levels to connect and learn from each other."
To create an inclusive and diverse community of participants, women and minorities are especially encouraged to register and attend.
The Leadership Development Summit is free for all OTT industry professionals.
The conference is being hosted by OTT.X's Leadership Development Foundation (LDF), an organization dedicated to the vision of a diverse, inclusive business and technical workforce in the OTT video entertainment industry, supported by a broad range of career and leadership development opportunities. The LDF is overseen by a steering committee with representatives from content providers, channels, retailers and service providers in the OTT video industry.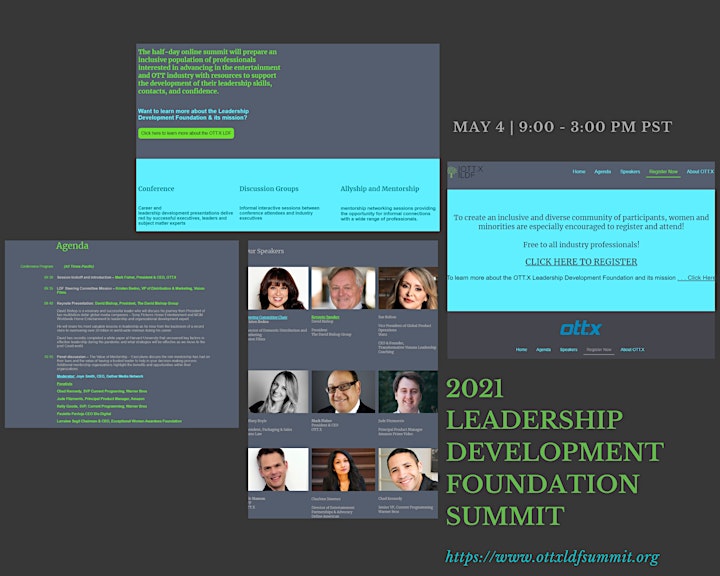 To Learn More about speakers and program details: Click Here