Ottawa Festival Network/Event Central/SEAT Info Session: Cannabis + Events
Description
Le français suivra l'anglais
Join us for a FREE two-part information session on running festivals + events in Ottawa:
Part 1: Service overview and updates from OFN, Event Central and the Special Events Advisory Team
Part 2: "Weed Like to Talk" - A cannabis information session for events in Ottawa
Legalized cannabis has had many implications on the event industry, and there are more to come. Do you understand how it impacts your event? Do you know how to be prepared to mitigate potential risks to your organization, staff, volunteers and your audience? This information session with experts will give you up-to-date information, practical advice and tips on how you can prepare for the new reality of legalized cannabis.
Leave this information + networking session with a better understanding of:
City bylaws related to cannabis use

How to develop policies for your organization

How to manage event and organizational risk associated with cannabis

Federal legislation status about cannabis edibles, extracts and topicals
Panelists include:
City of Ottawa representatives
Megan Cornell, LLB – Momentum Law
Shawn LaPalm – Cooperators Insurance
AGENDA
5:30 PM Registration and Networking (refreshments provided)
6PM Presentations and facilitated Q + A
7:15 PM Expo + Networking
8PM Event wrap up
---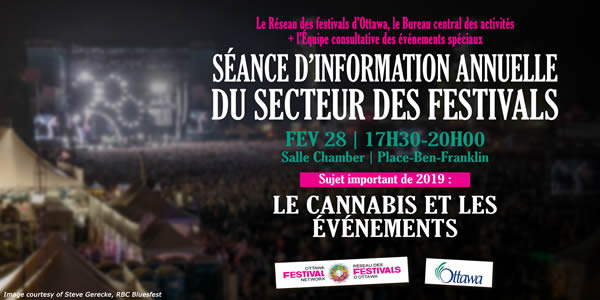 Venez assister GRATUITEMENT à une séance d'information sur les festivals et événements qui se déroulent actuellement à Ottawa. La séance sera présentée en deux parties :
Partie 1 : Aperçu du Service et mises à jour présentées par le Réseau des festivals d'Ottawa, le Bureau central des activités et l'Équipe consultative des événements spéciaux
Partie 2 : « Parlons cannabis », une séance d'information sur la gestion du cannabis lors d'événements organisés à Ottawa
La légalisation du cannabis a eu de nombreuses répercussions dans l'industrie événementielle, et ce n'est pas terminé. Avez-vous bien compris quelles seront les répercussions du cannabis lors de l'événement que vous organisez? Savez-vous comment vous préparer pour atténuer les risques potentiels que pose le cannabis pour votre organisation, votre personnel, vos bénévoles et votre public? Cette séance d'information, animée par des experts, vous donnera de l'information à jour, des conseils pratiques et des astuces pour bien vous préparer à affronter cette nouvelle réalité, soit la légalisation du cannabis.
Lorsque cette séance d'information et de réseautage prendra fin, vous serez en mesure de mieux comprendre :
les règlements municipaux concernant la consommation de cannabis

;

comment élaborer les politiques de votre organisation

;

comment gérer les risques associés au cannabis pour l'organisation et dans le cadre de l'événement

;

la législation fédérale au sujet des produits comestibles à base de cannabis, des extraits de cannabis et du cannabis pour usage topique.
Parmi les experts présents :
Des représentants de la Ville d'Ottawa

Megan Cornell, titulaire d'un baccalauréat en droit – Momentum Business Law

Shawn LaPalm – Co-operators Insurance
ORDRE DU JOUR
17 h 30 Inscription et réseautage (des rafraîchissements sont offerts)
18 h Exposés et foire aux questions sous la direction d'un animateur
19 h 15 Exposition et réseautage
20 h Fin de la séance d'information