OTNA Classic Car Show 2015
When and where
Location
Old Town Newhall - Main Street 100 Main St Newhall, CA 91321
Refund Policy
Contact the organizer to request a refund.
Description

RESERVE YOUR SPACE TODAY!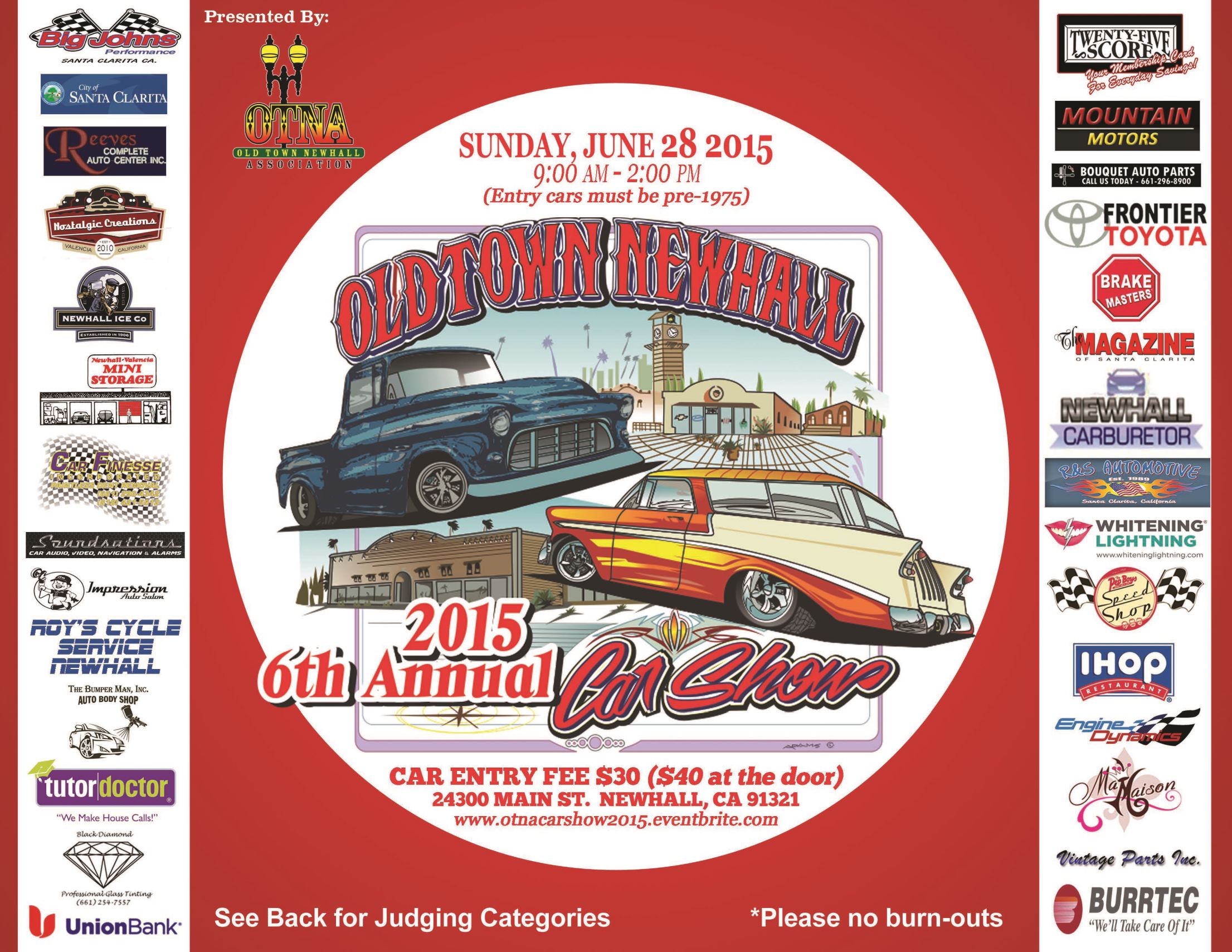 JUDGING CATEGORIES
Best Muscle Car • Best Stock/Original • Best Under Construction • Best Pre‐1949 • Best Interior
Best Paint • Best Engine • Best Truck 1950‐1959 • Best Truck 1960 ‐ 1975 • Best of Show
Vehicles checkin: 7:30AM – 9:00 AM, June 28, 2015
Vehicles should remain stationed until the endof the show at 2:00 PM
Please make checks payable to:
OLD TOWN NEWHALL ASSOCIATION
PO BOX 221614 NEWHALL, CA 91322
WAIVER AND DISCLAIMER
On behalf of the entire group participating in the 2015 "OTNA Classic Car Show ", my entry submission for the event confirms that Iassume all risk of bodily injury, property damage, and personal damage that may occur by participating in the "OTNA Classic Car Show ", and for myself/ourselves, their heirs, executors, and administrators, do hereby forever waive and release any and all claims against and agree to hold harmless the Old Town Newhall Association (OTNA) and the "OTNA Classic Car Show ", it's committee, sponsors, volunteers, employees, agents, representatives, sponsors, volunteers, successors or assigns any kind from any and all claims which may be made for any cause whatsoever arising as a result of participation.
Further, I hereby consent to allow my picture or likeness to appear in any official document, news release, sponsor advertisement and/or television and radio of the events within or as part of the "OTNA Classic Car Show ", an grant permission to use and/or publish photographic portraits, or pictures, video tape or film of me in which I may be included in whole, part, composite or reproduction thereof in black and white and/or color or otherwise made through any media now known, for art, advertising trade or any other similar lawful purposes whatsoever, including the publicity and promotion of this event itself, excluding commercial use of or by
marketing sponsors.

For safety reasons, except for an emergency, I agree not to move my vehicle until the end of the event at 2:00pm. *No burnouts please