About this Event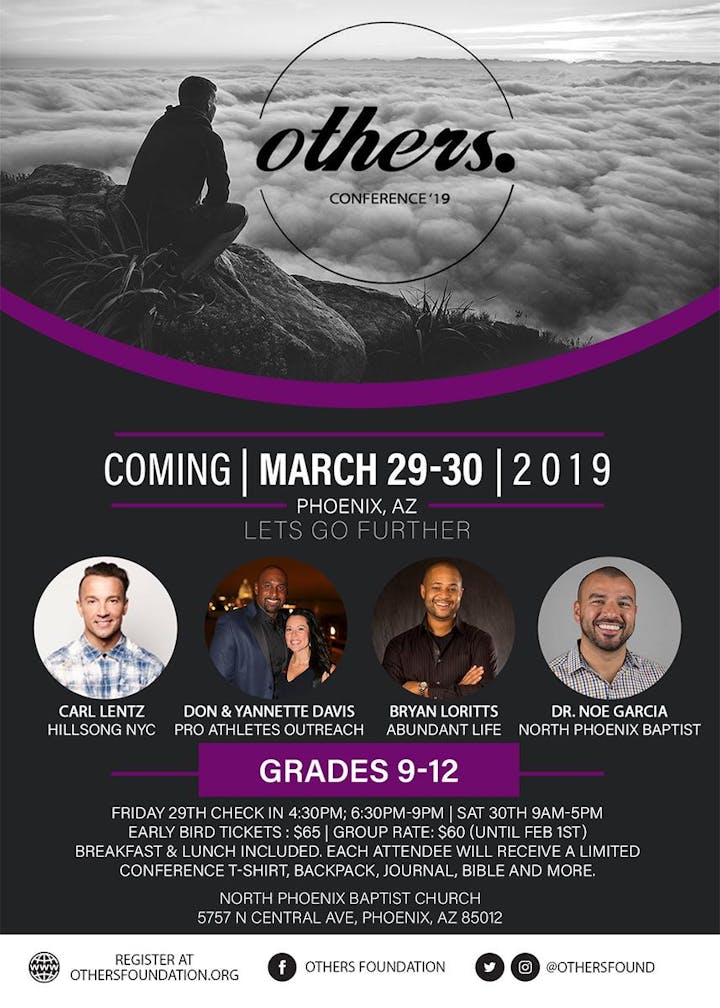 Dates:
Friday, Mar 29, 2019, 6:30 PM – 9:00 PM
Saturday, Mar 30, 2019, 9:00 AM – 5:00 PM
Venue:
North Phoenix Baptist Church
Ticket Price:
General admission is $80! Groups of 10 or more can get tickets at $60 until February 1st! Early bird tickets are available for $65 until February 1st.  Breakfast and lunch are included. Each attendee will receive a limited conference t-shirt, backpack, journal, bible, and more.
Speakers:
Carl Lentz, Bryan Loritts, Dr. Noe Garcia and Don and Yannette Davis
What is Others Conference all about?
Birthed from the command in 1 Peter 4:10 to live outwardly in service toward others; Others Conference exists to empower and embolden high school-aged students by promoting a real and authentic relationship with Jesus by creating an atmosphere for prayer, worship and the word of God.
Why high-school aged?
High schoolers are in a crucial season of life. They are wittingly or unwittingly searching for purpose, identity, and truth. Where they find these essentials will have an effect on their future. Our aim is to lead them toward finding these values not in the right WHERE but in the right WHO-namely-Jesus.
What is the story of our conference?
Others Conference was started by Prince and Pilar Amukamara and Darnell and Marissa Barrett. Prince Amukamara grew up in Arizona and went to his first conference at Northern Arizona University hosted by the FCA (Fellowship of Christian Athletes). It was then that he had an encounter with Christ and made a decision to follow Him. It was that encounter that was the impetus behind his passion to provide a conference for students to experience that same encounter with Jesus. Throughout college and his career in the NFL, Prince's heart for ministry and youths grew tremendously and the result of that became Others Conference.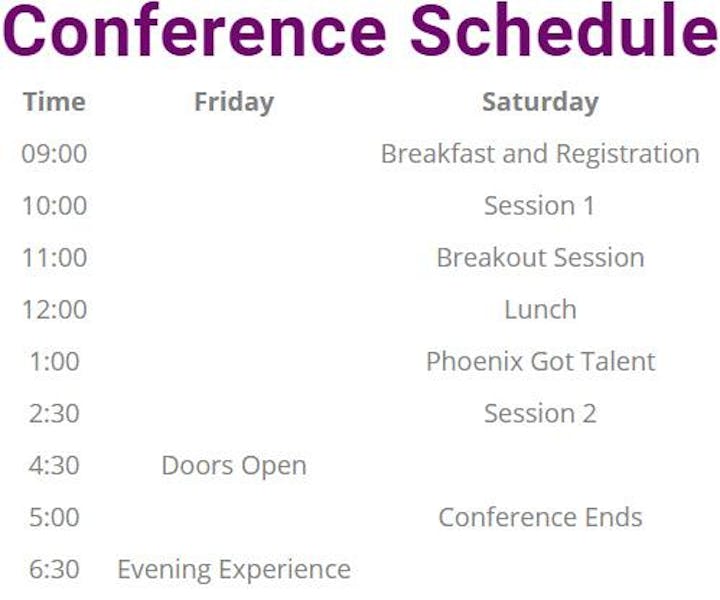 Notice of Filming and Photography
When you enter Other's Conference event, conference or program, you enter an Area where photography, audio, and video recording may occur. By entering the event premises, you consent to interview(s), photography, audio recording, video recording and its/their release, publication, exhibition, or reproduction to be used for news, web casts, promotional purposes, telecasts, advertising, inclusion on websites, social media, or any other purpose by OTHER'S CONFERENCE and its affiliates and representatives.
Images, photos and/or videos may be used to promote similar OTHER'S CONFERENCE events in the future, highlight the event and exhibit the capabilities of RURO. You release OTHER'S CONFERENCE, its Officers and employees, and each and all persons involved from any liability connected with the taking, recording, digitizing, or publication and use of interviews, photographs, computer images, video and/or or sound recordings.
By entering the event premises, you waive all rights you may have to any claims for payment or royalties in connection with any use, exhibition, streaming, web casting, televising, or other publication of these materials, regardless of the purpose or sponsoring of such use, exhibiting, broadcasting, web casting, or other publication irrespective of whether a fee for admission or sponsorship is charged. You also waive any right to inspect or approve any photo, video, or audio recording taken by OTHER'S CONFERENCE or the person or entity designated to do so by OTHER'S CONFERENCE. You have been fully informed of your consent, waiver of liability, and release before entering the event.