Event Information
Refund policy
Contact the organizer to request a refund.
Eventbrite's fee is nonrefundable.
An International Festival of Science, Art & Music. Presented by Multiverse Concerts, CLOT Magazine, Integral Steps, and SciArt Initiative.
About this event
OTHER SKIES: An Exoplanetary Festival
This online festival interweaves musical performances, visual art, and talks from scientists working at the cutting edge of exoplanet research - whose work directly inspired the art on display. Over the course of the day, a diverse interdisciplinary panel will present a broad picture of our exoplanetary horizons and their ramifications for our shared humanity.
Recent scientific advancements—combined with our insatiable curiosity to probe the unknown—have rekindled our SciFi imaginations in the quest for the extraterrestrial. But what are the philosophical implications of these revelations? As these discoveries permeate popular culture, artists, thinkers, and scientists reflect and interpret their relevance. Can we envision new horizons for humanity away from imperialist and colonial perspectives? What unimagined life forms will be encountered? Can we imagine what it would be like to live beneath other skies?
At the heart of this event is the exhibition space: an immersive online environment specially created for the festival by New Art City, curated by CLOT Magazine and SciArt Initiative. The exhibition on view, "Exoplanetary Dust," will feature the work of 13 international artists/collaborations and will be hosted inside the freely navigable 3D gallery. Live events will take place inside the same digital space and will include live-streamed talks, a panel discussion, and a performance from Multiverse Concert Series.
Families with children are invited to an interactive workshop from Integral Steps: Exoplanetary Adventure!
Tickets are available by donation and free to students. A single registration will gain you access to the gallery, talks, and concert. The family workshop is an optional add-on to tickets.
Featuring:
Researchers: Dr. Clara Sousa-Silva (Harvard University), Dr. Michael Albrow (Fermilab), Tajana Schneiderman (MIT), and Dr. Lisa Messeri (Yale University)
Artists: Albert Barque-Duran & Marc Marzenit, Ani Liu, Ed Bell, Marlena Bocian-Hewitt, Nicole L'Huiller & Daniela Catrileo, Raphael & Jae Yeop Kim, Richelle Gribble, 30drop & Stephen Mclaughlin, Recsund Alien Jams, Sun Araw & Theo Triantafyllidis, Sónar Calling GJ273b, Lisa Messeri, and Suzanne Anker
Musicians: Matt Russo (SYSTEM-Sounds), Octave of Light with David Ibbett, Beth Sterling, and Amelia Sie
Schedule (EDT):
All events take place within the virtual gallery unless otherwise stated.
11am: Launch Event—Welcome from the Organizers and Opening Lecture by Dr. Michael Albrow
12pm: Exoplanetary Adventure! Family Workshop with Integral Steps (on Zoom) with Guest Scientist Tajana Schneiderman
12-1pm: Explore the Art Gallery!
1pm: Lecture by Tajana Schneiderman "Peering through the dust: the search for a pale blue dot"
1:30pm: Lecture Lisa Messeri
2pm: Multiverse Concert featuring SYSTEM-Sounds, Octave of Light by David Ibbett, and a lecture by Dr. Clara Sousa-Silva
3:30pm: Artist Talk by Ed Bell
4pm: Artist Talk by Ani Liu
4:30pm: Panel Discussion
5:30pm: Open Socializing via Mozilla Hubs
Organizers:
CLOT Magazine is an online platform dedicated to art and design explorations into science and technology, with a strong focus on media theory, philosophy and cultural studies.
Integral Steps is a music-focused non-profit organization offering unique integrative learning experiences through weekly classes, workshops and events. We serve children, families, and professionals interested in integrative education
Multiverse Concert Series nonprofit combines music and science in live performance. We believe the endeavors of art and science stem jointly from our innate passion for discovery.
SciArt Initiative is a 501c3 nonprofit organization dedicated to bridging the gulf between the arts and sciences through exhibitions, residencies, events, and our publication.
New Art City is an online multiplayer exhibition space for digital art and performance. Their 3D gallery toolkit allows artists and curators to build new types of exhibition spaces that can be accessed by hundreds of simultaneous visitors from all over the world with no need to register or download anything. They are an artist run organization dedicated to supporting artists, providing virtual space for those who are denied physical space, and amplifying the work of those who face systemic injustice.
This event is made possible in part with the support of the Cultural Office of the Embassy of Spain in Washington DC, and the Boston Mayor's Arts and Culture COVID-19 Grant .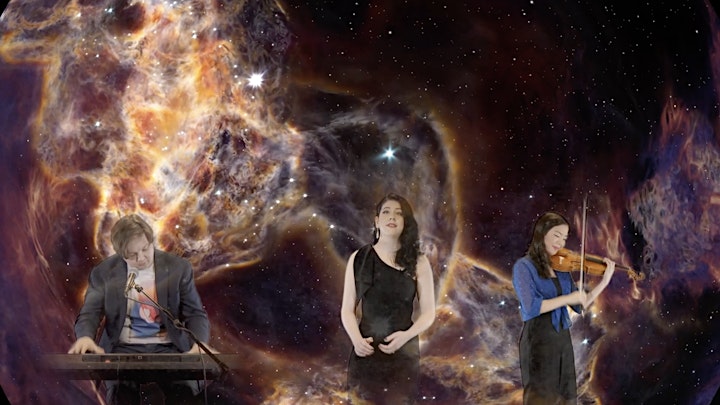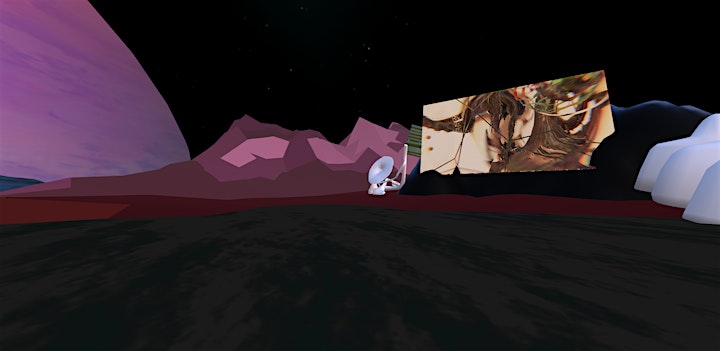 Date and time
Location
Refund policy
Contact the organizer to request a refund.
Eventbrite's fee is nonrefundable.