Location
Great Star Theater
636 Jackson Street
San Francisco, CA 94133
Refund policy
Refunds up to 1 day before event
Eventbrite's fee is nonrefundable.
A Festival of Boundary-Defying Creativity
About this event
Featuring: Charles Amirkhanian, Raven Chacon with Guillermo Galindo, Kui Dong, Lars Petter Hagen (Norway), Hanna Hartman (Sweden), Mari Kimura, Joëlle Léandre (France) with Lauren Newton, Dominic Murcott (UK), and Theresa Wong.
Composers from seven countries will convene for the 26th Other Minds Festival, an international annual showcase for composers whose innovative work ranges widely across styles and practices.
Five world premieres, two American premieres, and recent Pulitzer Prize winning composer Raven Chacon will grace the stage of the historic, newly renovated, Great Star Theater in San Francisco's Chinatown District for the weekend event Thursday October 13th, Friday October 14th, and Saturday October 15th, 2022.
Purchase single day or 3-day festival passes. Student discount tickets are available, please bring your student ID to show at the door.
Panel Discussions @ 7pm | Concerts @ 8pm
Schedule of Performances:
Thursday, October 13, 2022
Theresa Wong
Mari Kimura
Raven Chacon / Guillermo Galindo
Friday, October 14, 2022
Hanna Hartman
Joëlle Léandre / Lauren Newton
Charles Amirkhanian
Saturday, October 15, 2022
Dominic Murcott
Kui Dong
Lars Petter Hagen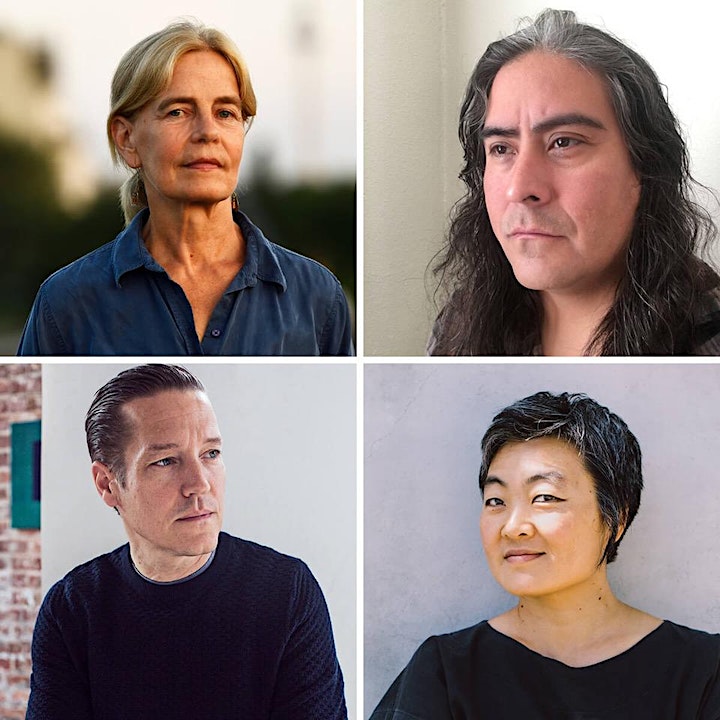 Bangers from London (& Elsewhere)
London composer Dominic Murcott will bring his legendary half-ton custom made double bell, to be spun on its axis and played by two percussionists, in the American premiere of The Harmonic Canon, a unique masterwork exploiting the overtone structure of the sculpture. Percussion also will be front and center in Kui Dong's Scattered Ladder, for two large marimbas that roll across the stage while being played by four percussionists.
And Charles Amirkhanian's Ratchet Attach It, for 10 percussionists and pre-recorded player pianos, will receive its American premiere after being introduced last year at the Spitalfields Festival in London. The new 10-movement work features a marching band drumline, sounds of bells and ratchets, and a phantasmagoria of pre-recorded pianola rolls. One movement is a hypnotic variation on the famous field drum cadence heard live and over national television during the funeral of President John F. Kennedy in 1963. Another features dueling pianola rolls—Grainger vs. Rachmaninoff—accompanied by a throbbing bass drum and a clattering of water buffalo bells.
Other Minds Commissions Lars Petter Hagen
One of Europe's most distinguished composers, Lars Petter Hagen, will compose a new work for violin, piano, and electronics, to be premiered by Kate Stenberg and Sarah Cahill. The Norwegian composer also will be represented by two other chamber works. Hagen, whose Diabelli Cadenza, played by pianist Leif Ove Andsnes, was praised by NY Times critic Anthony Tommasini, has written large-scale symphonic works, intimate chamber music, works for stage and film, and installations. He has just begun his tenure as director of the long-running Bergen International Festival, one of Europe's largest.
Extended Violin Virtuoso Mari Kimura
A highlight for fans of extreme virtuosity in performance, award-winning Mari Kimura will perform her own music for solo violin with the MUGIC® motion sensor that responds in real time to her playing via a Wi-Fi sensor tracking her bowing movements. A longtime faculty member at the Juilliard School, she now also teaches at UC Irvine's "Integrated Composition, Improvisation, and Technology" program. Kimura has performed violin concerti by other composers including John Adams, György Ligeti, Tania León, and Jean-Claude Risset.
Electrified Objects with Hanna Hartman
Sculpture and sound collide with Swedish sound artist Hanna Hartman's Solo for amplified and moving objects, a composition that turns microscopic sounds of everyday objects into maximal sound collages. Hartman uses hydrophones and contact microphones to capture the rhythmic pops of bubbles, the crunch of potato starch under a wooden croquet ball, the whooshes of washers sliding down long screws, and more in a work that is part musique concrète and part Calder's Circus.
Improvised by Design
A group of distinguished instant composers rounds out the lineup for Other Minds 26. Theresa Wong explores the timbral merging of her cello and her voice in a set drawing on material from her new album Practicing Sands. French bassist and improviser extraordinaire Joëlle Léandre will be joined by vocalist Lauren Newton for a performance two years in the making after pandemic delays. Finally newly-minted Pulitzer Prize winner Raven Chacon will be joined by Bay Area local Guillermo Galindo for a collaborative live improvisation with cassette recorders, guitar pedals, and found objects.