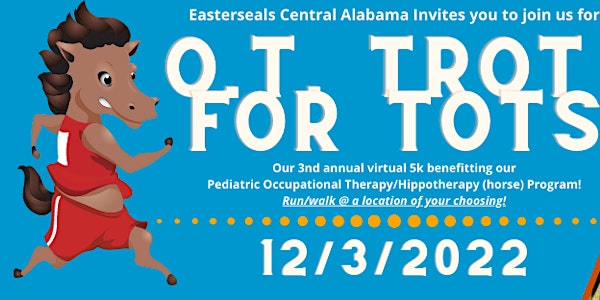 O.T. Trot for Tots
A virtual 5k walk/run benefitting the Pediatric O.T. and Hippotherapy (horse therapy) Program at Easterseals Central Alabama!
About this event
Our Pediatric Occupational Hippotherapy Program is off and running! If you didn't know, we have introduced hippotherapy to our OT program, which utilizes horses as a tool to help children reach their individual occupational therapy goals. The kids absolutely LOVE it and a tremendous amount of progress has been achieved in the children who take advantage of this program.
To help expand this therapy to make it more easily available to more children, Easterseals Central Alabama will be holding a virtual 5k fundraiser on Saturday, December 3rd, to help raise funds for the OT/Hippotherapy Program! We are inviting walkers, runners, and sponsors now! Join us!
The participation is flexible and includes a great way to support the cause:
$30 donation - participation in the run/walk! Your donation will help us offer this valuable program to more children!
Get involved:
Register to walk/run
Become a sponsor
Get your friends and family to join in
If you have a facebook account, share the link to this event to help spread the word!
Learn more by visiting www.eastersealsca.org or by contacting Varina Mead at 334-387-3256 or at vmead@eastersealsca.org!