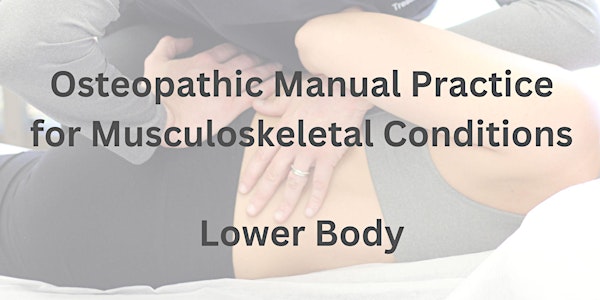 Osteopathic Manual Practice for Musculoskeletal Conditions - Lower Body
Osteopathic Manual Practice in management and treatment of musculoskeletal conditions using Articulatory Technique and Soft Tissue Technique
By Osteopathic Manual Practice International Academy
Date and time
April 15 · 9am - April 16 · 6pm PDT
Location
San Francisco School of Massage & Bodywork 475 Valencia Street #3rd FL San Francisco, CA 94103
Refund Policy
Contact the organizer to request a refund.
Eventbrite's fee is nonrefundable.
About this event
1 day 9 hours

Mobile eTicket
Course Description and Learning Outcomes
Traditional European Osteopathy consists of four pillars interlinked to each other: Structural, Visceral, Fascial, and Cranial Osteopathy. The aim of this course is to give healthcare professionals the knowledge and tools to understand a form of Structural Osteopathy called Osteopathic Manual Techniques with Articulatory Techniques and Soft Tissue Techniques..
Articulatory Techniques (ATs) is a low to moderate amplitude and low velocity osteopathic technique where the joint is carried through its full range of motion using repetitive concentric movements by the practitioner. The goal of these techniques is to use a passive, direct force to release biomechanic restrictive barriers of a joint and free all ranges of motion. By using ATs to harmoniously emphasize the natural motion of the target area, the practitioner can restore physiological freedom without putting stress on the surrounding structures. By reducing nociceptive signals, activating the parasympathetic nervous system, and promoting mechanotransduction processes, articulatory osteopathic manipulation can relieve somatic dysfunction and fascial tension to assist in tissue repair and recovery of the body and its biomechanics.
Soft Tissue Techniques (STTs) involve deep pressure and/or stretching movements across or along the length of the myofascial and connective fibres to reduce muscle stiffeness and tenderness, improve muscle elasticity, to drainage trap in the soft tissue that cause pain and inflammation.
Osteopath Manual Practioners can choose from a variety of STTs depending on the tissue they are working on as well as the outcome they expect. Some of these techniques include effleurage, petrissage, frictions, acupressure and lymphatic drainage.
The course is both evidence-based and evidence-informed and will allow the attendants to develop practical and clinical skills underlying the integrative and multidisciplinary approach of osteopathy - to learn when and how to use them for the benefit of their patients.
We have divided our program into two modules (Lower Body – Upper Body) - each will be taught over the course of two days: Saturday, and Sunday from 9:00 am to 6:00 pm. This is the page of Lower Body course only.
Participants will be evaluated based on observation in laboratory, class participation, and oral examination. The modules are structured to first guide participants through a sound review of functional anatomy, to develop a personalized assessment routine, to safely practice a meaningful set of soft tissue and articulatory techniques, and to apply integrative osteopathic clinical reasoning to various cases. Each module will focus on a set of specific body areas, in order to provide participants with a safe regional osteopathic manual structural approach fully applicable in their everyday practice.
Does this course provide CEUs?
The course is currently certified for Continuing Education hours by the following boards:
1.6 CEUs by California Physical Therapy Association (CPTA)
16 category A hours by Board of Certification for Athletic Trainers (BOC)
CEUs for Massage Therapists - certification pending
Participation in two full days from 9am-6pm is required for certification. No partial credit can be provided.
Who can attend?
Physical Therapists
Osteopaths or Student osteopaths (from 3rd year)
Chiropractors or Students chiropractors (from the 3rd year)
Athletic Trainers
Massage Therapists
Occupational Therapists
Take advantage of our Early Bird Pricing of $600 with discount code earlybirdompia before 02/28/23!
Course Structure
Instructional Strategies
Instructional strategies will be student centered to improve their theoretical knowledge and practical skills through an active learning approach. Active learning strategies such PBL (Project Based Learning) and TBL (Team Based Learning) will be integrated with lectures and practical sessions in order to promote an effective adult learning environment. The student to faculty ratio will be 16:1, with an aim of 32 total participants for 2 faculty members. Each faculty member has eight or more years of osteopathic clinical and teaching experience.
Anatomy Lecture and Lab
The regional anatomy will be reviewed first through lecture and then with an anatomical palpation workshop in which the students will be guided in an active palpatory routine to identify and define the main anatomical structures.
Students follow lectures with a lab where active and passive tests to assess the specific body region will be shown by the main instructor and practiced by participants. Tutors will support participants during practice highlighting possible improvement of execution and encouraging participants to develop a personal functional evaluation routine.
Treatment approaches
The proposed osteopathic manual structural approach will include Soft Tissue Techniques and direct Articulatory Techniques. Each technical approach will be explored in its principles, underlying physiological mechanism, its indications and contraindications. The practical workshops will require participants to practice on each other under tutor supervision.
Clinical Reasoning
In each module, time will be dedicated to develop a coherent and pertinent clinical reasoning in order to foster an efficient and therapeutic application of the newly acquired knowledge and skill. This will be put in action through the application of CBL (Case Based Learning) strategies with clinical cases designed to promote clinical reasoning on possible dysfunctions and conditions of the specific anatomical area. Specific attention will be put in illustrating possible correlation and influences on and from other body areas, both musculoskeletal and not, introducing participants to osteopathic manual practice integrative clinical reasoning.
Course Instructors
Paolo Tresoldi, DO (It), PgCert Edu - is an European Osteopathic Manual Practitioner, born and raised in Milan, Italy; he obtained his Diploma of Osteopathy released by the Istituto Superiore di Osteopatia in 2006 and has held an active private practice since. In 2015, he received his Postgraduate Certificate in Academic and Clinical Education released by the British School of Osteopathy in London, UK and has taught and supervised osteopathic courses all over the world. In 2018, he moved to Silicon Valley, where he continues his private practice, and teaches as an Adjunct Professor at Touro University College of Osteopathic Medicine in the Department of Osteopathic Manipulative Medicine. He founded the Osteopathic Manual Practice International Academy (OMPIA) in 2020 where he brings teachers from all over the world to share osteopathic manipulative treatment techniques with healthcare professionals of the United States.
Andrea Orlandi, B.Sc (Ost) - is a European Osteopathic Manual Practitioner from Italy. He earned a Bachelor of Science in Osteopathy from the Prifysgol CYMRU University of Wales and the Diploma in Osteopathy from the Istituto Superiore di Osteopatia in 2006. Since graduating he has pursued work in multidisciplinary clinics to give his patients a holistic evaluation and treatment approach. He earned a Master in Osteopathy in 2010 from the Bicocca University in Milan, Italy and continues his studies in chronic spinal musculoskeletal disorders, pain rehab and sport-related conditions. For more than a decade, he has taught osteopathic principles and practice in different osteopathic colleges. He has been a clinic college supervisor both at the International College of Osteopathic Medicine (ICOM) and the Accademia Italiana di Medicina Osteopatica (AIMO). He has been a professor at the Akademia Osteopatii in Poland. He is an associate and clinical assistant professor in the Osteopathic Manipulative Medicine (OMM) at Lake Erie College of Osteopathic Medicine in Erie, PA.
Michelangelo Pavone, D.O. (It), PgCert Edu - is a Senior Lecturer and Clinical Tutor at the Higher Institute of Osteopathy and Head of the MSc Advanced course of the Postgraduate Certificate in Advanced Osteopathic Practice in Sports. He obtained the title of Bachelor of Science in Osteopathy issued by the University of Wales at the Higher Institute of Osteopathy and since 2006 he has been a clinical tutor at the Center for Osteopathic Medicine combining clinical activity with teaching the course of Palpation and Functional Anatomy to students of the Higher Institute of Osteopathy. His passion for teaching lead him to attend the Postgraduate Certificate in Academic and Clinical Education in 2015 and the Postgraduate Certificate in Pain Management in Osteopathic Practice in 2018. The knowledge acquired and above all the experiential practice of ten years of clinical work allows him to provide a competent and complete approach to athletes.