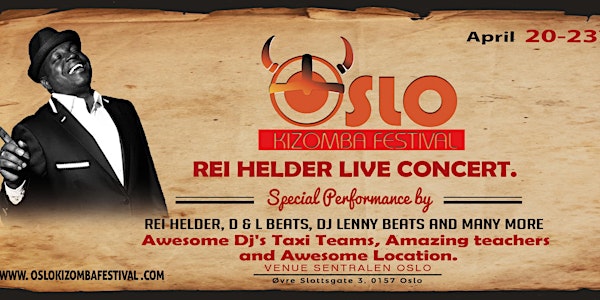 OSLO KIZOMBA FESTIVAL FEAT REI HELDER (3RD EDITION)
When and where
Location
Sentralen 3 Øvre Slottsgate 0157 Oslo Norway
Description
***********************THIRD EDITION**************************** -
*********************OSLO KIZOMBAFEST****************
*****INTERNATIONAL AND LOCAL INSTRUCTORS **********
........LIVE PERFORMANCE BY REI HELDER....................
*********>>>>>>>>>>TWO ROOMS>>>>>>>>>>.***************
.......................urban room and kizomba room..............................
>>>>>>>>>>>>>>>>>>>>>>>>>>>>>>>>>>>>>>>>>>>>>>>>
███▓▒░░ TICKET BOOKING ░░▒▓███
Advanced tickets will be availiable shortly
WELCOME TO NORWAYS PREMIER KIZOMBA FESTIVAL
Featuring - The hottest teachers, djays, taxi's and many many more
PLUS A LIVE CONCERT :
ON SATURDAY WITH THE LEGEND
REI HELDER
Date 20-23rd April 2018
Teachers include

Rico Suave and Adda - Guinea Bissau / UK
Douda and Bahare - France / SWE
Arnold Bunda - Ger
Theodore Awadzi - Ghana / Uk
Mika and Marine - Curacao / Barcelona
Liliana de Lima - Brazil / DK
Shawn Jerome McCray - Germany
Elizabeth Golden- Aus
Onkle Kani - Fra
Mau Kobri - Ivory Coast / SWE
David Flor - Portugal / SLO
Nima and Lovisa - Sweden
Nii Nortey Lokko and Astrid - Ghana / NOR
Ebenezer and Karine - Ghana / Italy / No
and many many more.

Deejays
Lisa Rose (D & L Beats) - Netherland
Daniel Fernandes (D & L Beats) - Netherland
Dj Adon - Spain
Dj EsTii - Sweden
Dee C Beats - France
Dj Soulbeat - Sweden
Dj MaiE - Norway
DJ Dico - England
Dj Koko - England
Dj JSI - Netherland

and many more.
More info to follow

Event Venues
Friday Pre party and after party location - Dancecity - Mollergata 6, 3rd Floor.
Workshop and party location - Sentralen - Øvre Slottsgate 3, Oslo.

Taxi Teams
Casanova Taxi team
Magickiz Taxi team
Kizsellers Taxi team
Dancecity Taxi team
Dreamkiz Team
More to come.
OSLO KIZOMBA DANCE SCHOOL, DANCECITY
First Millenium Hotel - sold out
Comfort Xpress Mollergata - almost sold out
WilDEST OSLO KIZOMBA FESTIVAL EVER.
#PARTY
LIKE A KIZOMBA VIKIN#.