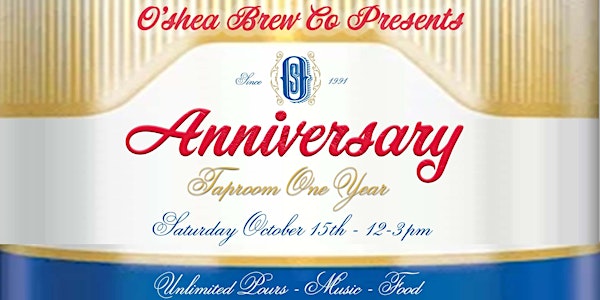 O'SHEA BREW CO - ONE YEAR ANNIVERSARY PARTY
Join us to celebrate our taproom 1st Anniversary on October 15th 2022. Unlimited craft beer tasters 12-3pm with live music and food.
When and where
Location
Oshea Brew Co. 28142 Camino Capistrano Laguna Niguel, CA 92677
About this event
Our first anniversary of the taproom is here! It will take place on Saturday, October 15th from 12-3. This year there will be two different ticket options. General Admission gets you access to unlimited tasters from 12-3 and a glass to keep. VIP tickets are limited and will get you in an hour early. VIPs will receive private pours in the taproom and will be the first ones to dive into the general tasting session with your special glass to keep. This year's General Admission will be held outside only with the taproom reserved for VIPs to enjoy what's on tap there and escape the crowd if they choose.
We are currently putting the finishing touches on planning out an absolutely epic event, and we can't wait to share all the details with you over the coming weeks. Stay tuned for more announcements about all the amazing beers, music, and food that we have lined up.
We'll have beers on tap from Untitled Art, Honey Pot, Radiant, Everywhere, Laguna, Rad Beer, Trademark, Toppling Goliath, Horus Aged Ales, Great Notion, Riip, Drowned Lands, Russian River, Bottle Logic, Beachwood, North Park, Urban Roots, Oxbow, De Ranke, Schneeeule, Ritterguts, Fantome and more! Just like last year, we will have a station with an awesome selection of bottle/can pours available. We're adding more daily so check back for updates.
Several breweries will be here as well serving their favorites. Breweries include: Radiant, Rad, Honey Pot, Laguna, Everywhere, Untitled, and more. We will also be releasing our new "Stairway" series collab with Laguna that day.
The Reflexx will be performing 12-3 outside. After the 12-3 session, the taproom will be open the rest of the day with Barenaked 80's performing at 7pm.
Food available for purchase from multiple vendors including Hammer Burger, Bales BBQ, and Ice Cream from Scoops on Tap.
Get your tickets early to ensure you get one. There might not be tickets available at the door.